Finance and accounting (F&A) outsourcing grew between 13% and 17% from June 2021 to June 2022. F&A outsourcing is expanding as enterprises entrust service providers with more strategic processes, such as tax and treasury. Additionally, companies want to deal with fewer service providers, leading to an increase in the number of multitower deals. For F&A outsourcing service providers combined, 50%–75% of their F&A revenue comes from providing end-to-end services, compared to function-specific projects.
These trends are covered in Avasant's F&A Business Process Transformation 2022–2023 RadarView™. The report is a comprehensive study of F&A service providers, including top trends, analysis, and recommendations. It takes a close look at the leaders, innovators, disruptors, and challengers in this market.
Avasant evaluated 35 providers using three dimensions: practice maturity, domain ecosystem, and investments and innovation. Of the 35 providers, we recognized 21 as having brought the most value to the market during the past 12 months.
The report recognizes providers in four categories:
Leaders: Accenture, Capgemini, Genpact, IBM, Infosys, TCS, and Wipro
Innovators: Cognizant, EXL, HCLTech, Tech Mahindra, and WNS
Disruptors: Conduent, DXC, Exela Technologies, NTT DATA, and Sutherland
Challengers: Datamatics, Hexaware, IQ BackOffice, and Sopra Steria
Figure 1 from the full report illustrates these categories: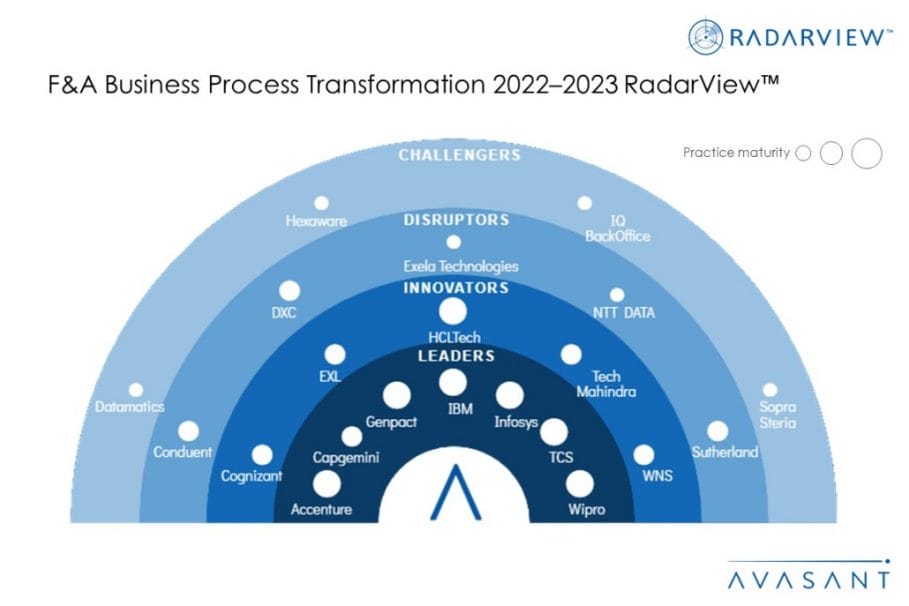 "Economic uncertainty is changing how enterprises look at F&A outsourcing. They want partners who can effectively use technology to drive greater business value," said Avasant Partner Shobhit Patnaik. "Enterprises need partners that can deliver greater levels of compliance, sustainability, efficiency, and automation."
The full report provides a number of findings and recommendations, including the following:
Organizations are now entrusting more strategic processes to service providers.
F&A process outsourcing has been changing over the past few years from being solely transactional in nature to incorporating strategic elements, accelerated by the pandemic.
Enterprises increasingly trust providers to handle strategic finance operations at lower costs and drive the digital transformation of the F&A function.
F&A challenges are forcing enterprises to transform their strategies and processes. These challenges prevent enterprises from effectively managing their F&A processes and getting the desired results, ranging from misalignment between CFOs and CIOs, change management, enterprise fatigue, regulation and compliance, and talent retention difficulties.
F&A service providers are developing CFO-specific solutions and services. These solutions come with industry-benchmarked practices and unified dashboards to track critical KPIs and help drive digital process transformation by using as-is and to-be process mapping, workflow enhancement tools, RPA, and analytics solutions.
F&A service providers are strengthening their innovation capabilities.
F&A service providers are responding to the growth in strategic finance outsourcing by bolstering their innovation capabilities via CoEs and certifying their full-time employees in F&A. This helps service providers quickly and effectively respond to evolving enterprise demands.
"F&A outsourcing is fast becoming strategic, and service providers are already rising to the challenge by developing new services and offerings," said Avasant's Research Leader Shwetank Saini. "As demand increases, driving agility and innovation into the F&A function will become even more crucial."
The full report also features detailed RadarView profiles of 21 providers, along with their solutions, offerings, and experience in assisting enterprises in digital finance transformation.
---
This Research Byte is a brief overview of the F&A Business Process Transformation 2022–2023 RadarView™ (click for pricing).
---