Intelligent automation (IA) is becoming a central component of larger transformation engagements. However, some automation projects suffer due to siloed, single-point solutions and a lack of agility. To solve this problem, enterprises are seeking new ways to leverage predictive and semantic automation, and new enterprise platforms are integrating automation to streamline business functions. IA service providers are also simplifying enterprise automation engagements through the implementation of digital personas and low-code/no-code (LCNC). As a result, IA is becoming more intuitive and showing a stronger return on investment.
These trends, and others, are covered in our Intelligent Automation Services 2021–2022 RadarView™. The report is a comprehensive study of IA service providers, featuring top trends, analysis, and a close look at market leaders, innovators, disruptors, and challengers.
We evaluated 31 service providers across three dimensions: practice maturity, partner ecosystem, and investments and innovation. Of those 31 providers, we recognized 24 that have brought the most value to the market during the past 12 months.
The report recognizes service providers in four categories:
Leaders: Accenture, Capgemini, Cognizant, HCL, IBM, Infosys, TCS, and Wipro
Innovators: EXL, Genpact, Mindtree, NTT DATA, and Tech Mahindra
Disruptors: CSS Corp, Coforge, ITC Infotech, LTI, Sutherland, and Zensar
Challengers: Atos, DXC, Hexaware, Mphasis, and UST
Figure 1 from the full report illustrates these categories: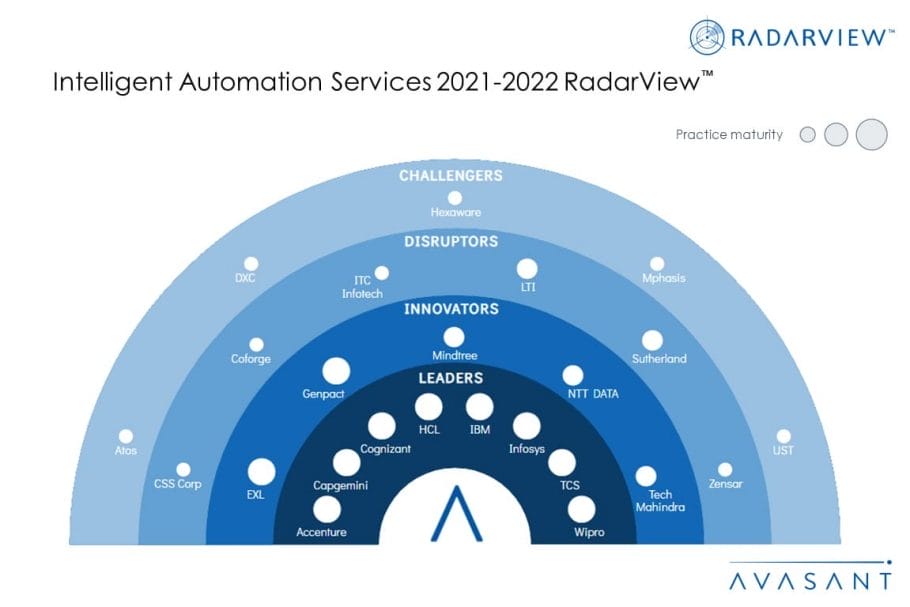 "Intelligent automation is a key enabler, as enterprises seek to streamline complex workflows," said Anupam Govil, partner and digital practice lead at Avasant. "The post-pandemic future will be based on intuitive business platforms embedded with automation to help enterprises achieve seamless, human-machine collaboration."
Some of the findings from the full report include the following:
Enterprises are extensively leveraging IA along their journey toward hyperconvergence to streamline their business workflows. However, about 30%-40% of automation projects cannot achieve the expected business results due to siloed implementations of point solutions, the inability to reuse automation assets, and the lack of bot agility.
The growth in standalone automation implementations is stagnating. Business platforms with embedded IA capabilities are giving stiff competition to standalone automation platform providers. IA service providers are also expanding the scope of automation by leveraging self-learning and data intelligence.
Nearly 15% of the automation engagements involve digital replicas of various job roles and business functions to streamline routine tasks across internal departments. Over the next year, these persona-based solutions will become widely available across retail, manufacturing, banking, and healthcare sectors.
Enterprises are prioritizing citizen development to scale IA implementations and maximize their ROI. Nearly 34% of IA engagements involve LCNC implementations. To ensure effective risk management around their LCNC engagements, enterprises are leveraging governance initiatives such as hybrid citizen development models, built-in security, hybrid governance teams, and citizen development training.
"Automation should no longer be thought of as the end goal, but as part of the larger digital transformation." said Chandrika Dutt, research leader at Avasant. "To reap maximum business benefits, enterprises must migrate siloed automation initiatives to a centralized ecosystem."
The full report also features detailed RadarView profiles of 24 service providers, along with their solutions, offerings, and experience in assisting enterprises in their IA journeys.
---
This Research Byte is a brief overview of the Intelligent Automation Services 2021 RadarView™ (click for pricing).
---