Scope of the Report
The report covers the intelligent automation services market evolving around cognitive automation. The report highlights how most enterprises have derived business value from robotic process automation (RPA) implementations and are now embarking on automating business-critical processes by leveraging artificial intelligence and machine learning.
The report features highly detailed, comprehensive RadarView Profiles of the top 24 service providers and their solution offerings for an intelligent enterprise. This is also a good reflection of how the service provider landscape has evolved compared to last year, not only in terms of categorization but also in the way they are investing in cognitive technologies, identifying new application areas, developing reusable and off-the-shelf assets, and strengthening their partner network.
Why read this RadarView™ ?
Avasant's interactions with enterprise digital leaders indicate that there is a lot of excitement about the possibilities of AI-led automation in hitherto untapped industry-specific use cases. The rapid evolution of cognitive-based solutions is supporting the growth of core and complex process automation using AI/ML.
This report is designed to help enterprise leaders draw out their intelligent automation strategy and identify the business processes and scenarios where cognitive automation has evolved. Also, service providers can use the report to re-align their product and service development investments, their go-to-market approach and have an update on the competitor's intelligent automation practice.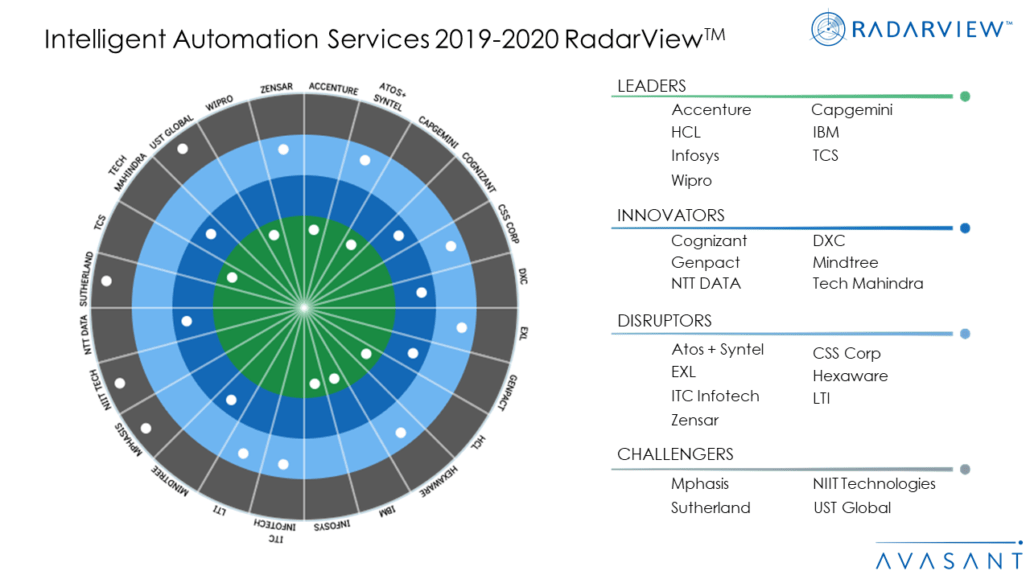 Featured Providers
Accenture, Atos + Syntel, Capgemini, Cognizant, CSS Corp, DXC, EXL, Genpact, HCL, Hexaware, IBM, Infosys, ITC Infotech, LTI, Mindtree, Mphasis, NIIT Tech, NTT Data, Sutherland, TCS, Tech Mahindra, UST Global, Wipro, Zensar.
Methodology
Avasant follows a multi-pronged approach to gather practitioner's insights. This includes extensive and ongoing interviews and discussions with subject matter experts, Avasant Distinguished Fellows, and advisors involved with ongoing intelligent automation strategy development. This is augmented with online questionnaires and structured briefings with leading intelligent automation service providers.
Avasant evaluated 45 providers using a rigorous methodology across 3 key dimensions: practice maturity, investments and innovations, and industry ecosystem. Of the 45, 24 are recognized as having brought the most value to the market over the last 12 months and are categorized as Leaders, Innovators, Disruptors, and Challengers.
---
Click here to access the Research Byte based on this report.
---