The adoption of intelligent automation (IA) technology is increasing across geographies and industries. Many companies have derived business value from robotic process automation (RPA) and are now embarking on automating business-critical processes by leveraging artificial intelligence and machine learning. As a result, the service provider landscape is evolving as the technologies mature, offering more industry-specific solutions and more successful implementations.
This trend is one of many covered in Avasant's Intelligent Automation Services 2019-2020 RadarView™ report, a comprehensive study on intelligent automation services, packed with industry-first insights, analysis, and a close look at the leaders, disruptors, innovators, and challengers in this market.
The full report assists enterprises in transitioning from RPA to intelligent workflows. It provides a granular understanding of service providers that help companies advance their traditional processes. It highlights the trends in the intelligent automation market and Avasant's viewpoint on the direction of the market over the next 12 to 18 months.
Avasant evaluated 45 providers using three dimensions: practice maturity, partnership ecosystem, and investments and innovation. Of the 45 providers, 24 are recognized as having brought the most value to the market over the past 12 months.
The RadarView recognizes service providers in four categories:
Leaders: Accenture, Capgemini, HCL, IBM, Infosys, TCS, and Wipro.
Innovators: Cognizant, DXC, Genpact, Mindtree, NTT DATA, and Tech Mahindra.
Disruptors: Atos|Syntel, CSS Corp, EXL, Hexaware, ITC Infotech, LTI, and Zensar.
Challengers: Mphasis, NIIT Technologies, Sutherland, and UST Global.
These four categories are illustrated in Figure 1 from the full report: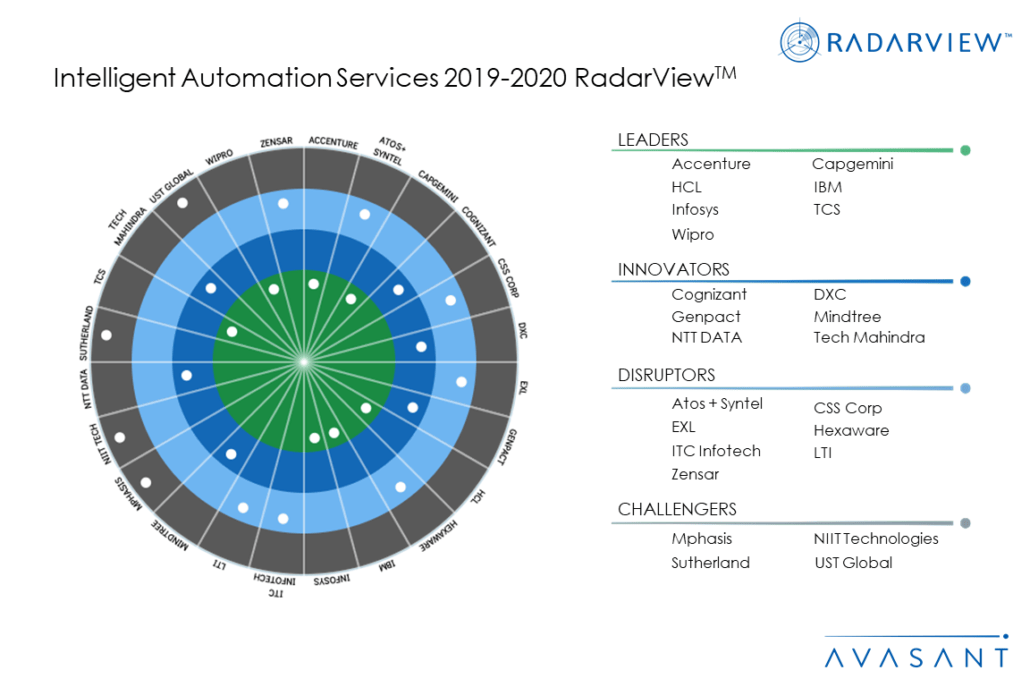 "When considering automation, buyers should focus on reinventing processes before automating them and adopt an integrated approach, rather than individual point solutions," said Chandrika Dutt, Avasant's principal analyst.
The report includes the following recommendations for buyers of intelligent automation solutions and services:
Establish business alignment with a top-down approach to automation:

Chart-out an automation program that is well supported by business, IT, and leadership. Define the right vision for intelligent automation by bringing clarity to automation objectives. Ensure that automation is seen as an enterprise-wide initiative and not just limited to a functional area.
Intelligent automation is one of the key enablers of digital transformation. Consider embedding it within the digital strategy for the organization and aligning it with the overall transformation road map.

Look beyond routine back-end functions and build an automation road map for core, complex processes:

As automation becomes pervasive, its drivers are shifting from pure cost-reduction to more strategic objectives – driving straight-through processing, enabling digital business models and richer customer engagement.
Enterprises should leverage more cognitive, ML-and-AI-enabled digital platforms in conjunction with automation to expand the impact to customer-facing functions.

Adopt a partnership-based, center-of-excellence (CoE) model for more scalable and effective IA implementation:

Establish a federated CoE model to not only achieve faster implementations and better program governance but also to mitigate talent and scaling challenges. Partners can help address the talent gap and provide flexible resources and deep expertise. But keep business analyst and core RPA roles internal.
Organizational change management (OCM) can be centralized within the CoE to ensure benefits are realized.
The full report features detailed RadarView profiles of the top 24 service providers along with their solutions, offerings, and experience. The report is also a good reflection of how the service provider landscape has evolved, not only in terms of categorization but also in the way they are investing in developing talent, enhancing solution portfolio, expanding geographic focus, and strengthening their partner network. Accordingly, the service providers are judged on practice maturity, investments and innovation, and industry development.
---
This Research Byte is a brief overview of the full Intelligent Automation Services 2019-2020 RadarView™ report. The full report is available at no charge for Avasant Research subscribers, or it may be purchased by non-subscribers directly from our website (click for pricing).
---