Median corporate IT spending in 2006 across all industry sectors in the U.S. and Canada is 2% of revenue, according to the 17th annual Computer Economics IT spending and staffing study.
The 2% ratio is an increase from 1.7% in 2005, and above the 1.9% figure from 2004, as shown in Figure 1. In fact, this year's ratio is the highest that this metric has reached since 1997, during the build-up to Y2K, when it reached 2.2%.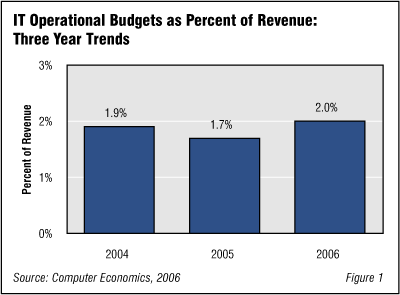 Effectively, the growth in IT spending as a percent of revenue means that IT budgets are increasing faster than corporate sales. This is confirmed by the study, which shows that the median growth in IT spending on a dollar basis across all respondents this year is 4.1%, outpacing the 2005 U.S. GDP growth rate of 3.5% in 2005.
"Companies simply have more money to spend this year," said Frank Scavo, President, Computer Economics. "But we see most of the new spending going toward hardware, software, and outsourcing, with not as much toward adding to the IT staff."
Scavo pointed out that, although there are more companies adding IT staff than cutting headcount, the median increase in IT staff this year is only 2.0%, about half the rate of the increase in IT spending.
The study found that IT spending growth is strongest in business services, where it shows a 9.7% increase over last year, followed by healthcare, pharmaceuticals and medical devices, retail, and banking and finance organizations. Weakest growth, though still positive, is seen in the process manufacturing, utilities/energy, and wholesale distribution sectors.
The Computer Economics IT Spending, Staffing, and Technology Trends study, now in its 17th year of publication, provides dozens of additional ratios and other metrics for the composite sample, by organization size and by industry sector. Statistics include benchmarks for IT operational budgets, IT capital budgets, IT staffing, technology adoption rates, ROI and TCO, and outsourcing utilization.
The study is available for purchase from the Computer Economics website. A free 34 page Executive Summary is available upon request.
About Computer Economics
Founded in 1978, Computer Economics provides original research and advisory services on the strategic and financial management of information technology. The firm's clients include IT end-user organizations and major consulting firms in North America and in over 70 countries. Its monthly newsletter, the Computer Economics Report, first published in 1978, provides decision makers with timely insights into the management of information systems. Its IT Spending, Staffing and Technology Trends study, published annually since 1990, is the definitive source for IT spending benchmarks and related metrics. Computer Economics publications are available from its website at https://avasant.com/research/computereconomics.
July 2006