CPG manufacturers have recently enjoyed boom times resulting from the increase in consumer spending since the start of the pandemic. However, they now anticipate shrinking profit margins due to higher inflation and supply chain disruptions. In response, they are investing in digital technologies to meet these challenges, collaborating with service providers to take advantage of their strong domain and technical experience.
These emerging trends are covered in Avasant's CPG Digital Services RadarView™. The report is a comprehensive study of digital service providers in the CPG industry, including top trends, analysis, and recommendations. It takes a close look at the leaders, innovators, disruptors, and challengers in this market.
Avasant evaluated 34 providers using three dimensions: practice maturity, investments and innovation, and partner ecosystem. Of the 34 providers, we recognized 20 that brought the most value to the market during the past 12 months.
The report recognizes service providers in four categories:
Leaders: Accenture, Capgemini, Cognizant, HCL, Infosys, and Wipro
Innovators: IBM, ITC Infotech, LTIMindtree, TCS, and Tech Mahindra
Disruptors: Atos, DXC, Genpact, and UST
Challengers: EPAM, Fujitsu, Kyndryl, Softtek, and Zensar
Figure 1 below from the full report illustrates these categories: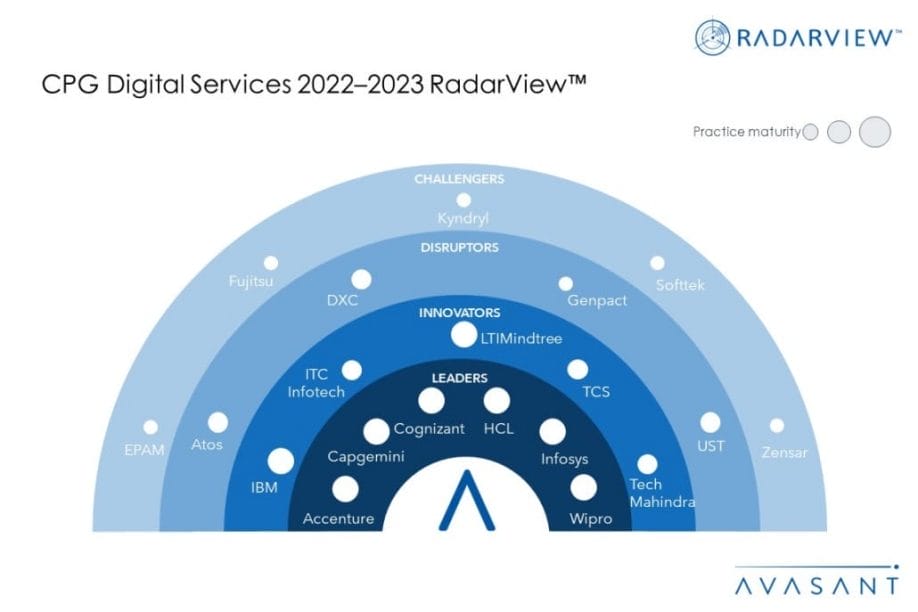 "The booming economy for CPG manufacturers is now under pressure due to rising costs and changing customer demand," said Joe Frampus, Avasant partner. "The only way to solve these issues is by investing in technologies to cut production costs, improving customer experience, and developing new business models."
The full report provides a number of findings and recommendations, including the following:
Leading CPG enterprises are moving toward new business models to reduce operational costs and provide a steady revenue stream.
They are investing in digital projects to prioritize sustainability goals and move toward becoming net-zero organizations, which will help them meet consumer demand for sustainable products and comply with regulatory mandates.
Companies are elevating the consumer experience by developing customer-centric digital strategies, which include omnichannel experience, hyperpersonalization, and using digital technologies, such as the metaverse, to improve customer engagement.
Businesses are making the supply chain more secure and resilient by embracing nearshoring and reshoring capabilities, optimizing the supply chain, and providing greater inventory visibility across the supply chain.
"Consumer expectations are evolving as new technologies such as the metaverse and AR/VR gain popularity," said Gaurav Dewan, research director with Avasant. "CPG companies should partner with progressive service providers to decide how to leverage them for competitive advantage."
The full report also features detailed RadarView profiles of 20 service providers, along with their solutions, offerings, and experience in assisting CPG companies in digital transformation.
---
This Research Byte is a brief overview of the Avasant CPG Digital Services 2022–2023 RadarView™ (click for pricing).
---