If you are reading this, chances are a smartphone is either in your hand or your pocket. In a little more than a decade, consumerism has allowed the smartphone to evolve from a Blackberry in the pocket of the CEO to smartphones in the hands of every employee. Given the quick penetration of mobile devices in the consumer space, one would expect business spending on mobile devices to be increasing. But the opposite is happening. The very ubiquity of mobile devices in the hands of their employees is allowing enterprises to cut back spending on company-purchased mobile devices and simply utilize workers' personal devices for routine usage.
That is why we are seeing a significant drop in the number of organizations that have adopted mobile devices. As seen in Figure 2 from our full report, Mobile and Wearable Devices Adoption and Customer Experience, the percentage of organizations having adopted the technology has fallen from 61% in 2016 to 45% in 2018. This does not necessarily mean that organizations are pulling back their use of mobile devices but rather that they are relying more on employees bringing their own devices to work. And given the low rate of new investment, we expect this trend to continue.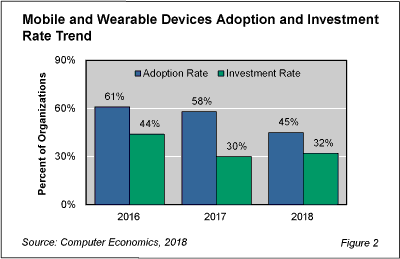 "Workers don't like carrying around two devices, and in most cases they can use their personal devices for business applications," said Tom Dunlap, director of research for Computer Economics, based in Irvine, Calif. "This means that organizations can cut back their spending on device hardware and focus it more on the applications that run on those devices. This is why we see investment in mobile devices declining this year while spending on mobile applications is sharply increasing."
Our definition of mobile and wearable devices includes company-supported smartphones, tablet computers, mobile data collection scanners, smartwatches, smart glasses, and other mobile and wearable devices. We do not include traditional laptop computers in this category, although we do include convertible tablets (also called hybrid tablets). We also do not include devices in the hands of employees that are not supported by the IT department.
Mobile devices also include bar-code and RFID readers from manufacturers such as Motorola, Symbol Technologies (owned by Zebra Technologies), Intermec, and others. These ruggedized devices continue to have their place in distribution, manufacturing, and transportation, but in some applications, smartphone and tablet apps have been able to displace these costly devices for lightweight use cases.
The full report provides an overview of key concepts and vendors in this space. We then examine mobile and wearable device adoption and investment trends, providing data on how many organizations have mobile devices in place, how many are in the process of implementing them, and how many are expanding their investments. We also look at the return on investment experience, total cost of ownership experience, and how organizations are using mobile devices. We conclude with recommendations on Mobile Device Management and getting the most business value from mobile/wearable devices, whether for traditional applications or for doing business in new ways.
---
This Research Byte is a brief overview of our report on this subject, Mobile and Wearable Devices Adoption and Customer Experience. The full report is available at no charge for Computer Economics clients, or it may be purchased by non-clients directly from our website (click for pricing).