Early adopters of robotic process automation (RPA) are finding positive return on investment and cost certainty, according to the Computer Economics Technology Trends 2019 study. RPA, along with IT security technology and enterprise asset management, is the newest technology to be added to the study, and it appears that despite current low adoption and investment rates, RPA will have a growing role in business in the years to come.
The study polled IT organizations worldwide on their experience with 15 leading technologies. According to Figure 98 from the full study, RPA ranked at the bottom for both adoption and investment. But it was in the top third for ROI, meaning that a large number of organizations were able to see a positive return on their investment within two years of deployment. It was also in the top third for success in total cost of ownership, meaning that a large number of companies were able to deploy RPA for less than or equal to the amount they budgeted. Satisfaction was also high for this technology.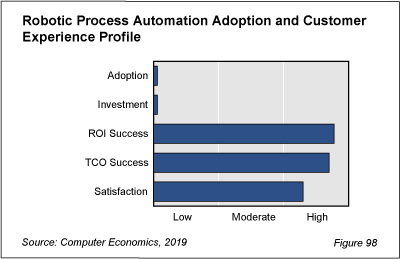 Robotic process automation is the use of software "robots" to automate processes that are normally performed by clerical or administrative users, typically using multiple business applications. The term does not refer to the use of mechanical robots, such as factory automation or material handling robots.
The software robot is typically taught by example how to respond to various triggers and to carry out the process. For example, an employee might submit a change of address form to the HR department, and a software robot could be triggered to update the appropriate records in payroll, benefits systems, expense reporting, and accounts payable, just as a human clerical worker might do. Because the process operates at the user-interface level, such an approach may be easier than attempting to integrate systems at the API level. The software robot simply mimics the keystrokes and mouse clicks that a human worker would perform, freeing the worker to focus on higher-value activities. The machine learns by observing the actions of humans doing the existing job.
"This is the first year RPA has penetrated deeply enough into the market to warrant being included in the full study," said David Wagner, vice president for research at Computer Economics, an IT research firm based in Irvine, Calif. "It's really designed to allow computers to do what they do best, repetitive tasks requiring accuracy but little creativity, while freeing up humans to do higher-order tasks. We expect RPA to grow rapidly, because of the success of early adopters."
The full study is designed to give business leaders insight into the staying power of 15 technologies that are currently top of mind for many companies. It provides a glimpse into how quickly an emerging technology is being adopted, how deeply more-established technologies are penetrating the market, and how positive the customer experience is with each technology. The study also delves into the specific types of solutions under consideration.
By understanding the adoption trends, investment activity, and customer experience, business leaders are in a better position to assess the potential risks and rewards of investing in each of these technology initiatives. They also can gain insight into just how aggressively competitors and peers are investing in these initiatives.
The study also takes a quick look at an additional 18 early adopter and future technologies. These include blockchain, digital currencies, digital assistants, drones, autonomous vehicles, virtual reality, augmented reality, quantum computing, biometric authentication, no-code/low-code, electronic tattoos, microchip implants, smart dust, 3-D printing, 4-D printing, self-healing systems, volumetric displays/holograms, and digital twins. The study evaluates whether IT decision makers are familiar with these, whether they see a potential use for them, and whether they have already implemented them or have installed them.
Sample pages from the full study are available for free download.
---
This Research Byte is a brief overview of our study, Technology Trends 2019. The full report is available at no charge for Computer Economics clients, or it may be purchased by non-clients directly from our website (click for pricing).