Tablet computers such as Apple's iPad are making inroads into corporate settings, but the adoption rate is still small in most organizations. This will likely change as these devices mature in their capabilities and form factors.
The market for tablet and tablet-like devices is developing quickly, but there is still confusion. In Intel's most recent quarterly conference call, CEO Paul Otellini wondered out loud about the definitions of the new notebook and tablet computers coming to market. "When you start seeing an ultrabook with a detachable touch screen, is it a tablet?" he said. When pressed on how much of the slowdown in consumer PCs was related to Windows 8 versus cannibalization by tablets and smartphones, Otellini said, "I think it's a bit of each."
When considering cannibalization, Intel and other suppliers are assessing both consumer and business sales. And the evidence so far shows adoption of tablets is much stronger on the consumer side than on the business side. Computer Economic research shows that about one-third of business organizations are supporting tablet computers, but the percentage of business users carrying tablets remains low. At the median, less than 2% of business users carry company-supported tablet computers today.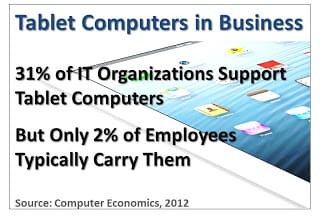 Up to this point, corporate PC makers have not had to worry about tablets taking market share away from personal computers. Tablet computers do not have the capabilities of laptop computers. For example, cutting and pasting text on an iPad is cumbersome.
The maturation of tablet computer capabilities is coming, however. Microsoft's Windows 8, a touch-enabled operating system that will run on PCs, laptops, tablets, smartphones and other handheld devices, is a full-featured platform. Manufacturers will leverage these capabilities to introduce devices that are more capable of replacing laptops than the iPad is capable of today.
Corporate IT organizations are not the ones taking the lead today to push tablets, or tablet-like devices, into the workforce. In most cases, it is individual business units that are forcing the IT organization to support these devices. The pressure generally is coming from sales organizations, field services, or top executives who want these devices to perform simple tasks such as workflow approvals while traveling.
In this regard, adoption of tablet computers in business will likely take a similar path to the adoption of personal computers 30-plus years ago. When personal computers first made their appearance in business organizations, IT organizations were quite happy with having employees use IBM 3270 green screen terminals. It was business leaders that bought those first PCs and then turned to the IT organization to support them. Ultimately, IT organizations took over the procurement and management of desktop computers and addressed issues of connectivity with the corporate networks.
Likewise, today, it is business leaders who are buying tablet computers and pushing their IT organizations to support them. As these devices mature, they will become a standard part of the IT portfolio of most business organizations. At that point, we will see tablets and tablet-like devices take a serious bite out of laptop and desktop sales.

---
Data on tablet PC penetration in the corporate market is from the Computer Economics IT Spending and Staffing Benchmarks 2012/2013 study. The study is based on an in-depth survey of more than 200 IT organizations in the U.S. and Canada. Benchmarks are available by organization size and sector.