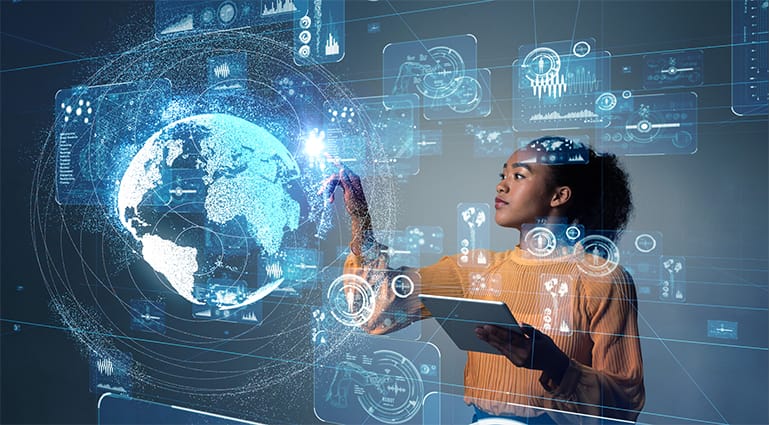 ENABLING THE INNOVATION ECOSYSTEM FOR AN INTELLIGENT ENTERPRISE
Executive Roundtable
November 12, 2:00 PM PST
5:00 PM EST
The COVID-19 pandemic has shown that organizations need to be more responsive to market changes and resilient in order to thrive in an uncertain business climate. Enterprises are accelerating their shift to Cloud and platform-based services to enable business agility. We are seeing the emergence of AI First enterprise that leverages data driven insights and hyper personalization to forge digital experiences.
Progressive IT Leaders should think ahead and align with an Innovation Ecosystem that can provide them the platform and tools to achieve this digital transformation.
Avasant's Executive Roundtable, in partnership with Capgemini and AWS, will bring together Business and IT Leaders to share and discuss innovation strategies in an interactive forum. Participants in this Roundtable discussed key take-aways on very practical ideas and high impact strategies for transforming into an AI First Enterprise.
About Avasant
---
Avasant is a leading management consulting firm focused on translating the power of technology into realizable business strategies for the world's largest corporations. Specializing in digital and IT transformation, sourcing advisory, global strategy, and governance services, Avasant prides itself on delivering high-value engagements through industry-focused innovation and flexible client-based solutions.
Our seasoned professionals have an average of 20 years of industry-honed expertise, having conducted 1000+ engagements in over 50 countries. Avasant's next generation consulting and advisory methods have made it the top-ranked firm in its class, with recognition from numerous organizations, including: Vault, NOA, IAOP, and Wall Street Journal.
Avasant's engagement in the global market has inspired a strong commitment to community and purpose. Avasant Foundation supports technology and skill development programs to create employment opportunities for youth across Africa, Asia, the Caribbean and Latin America.
For more information, visit https://www.avasant.com.
Follow news, photos and video on Twitter at http://www.twitter.com/avasant, Facebook at https://www.facebook.com/avasantllc, and LinkedIn at https://www.linkedin.com/company/avasant/.
Capgemini
---
Capgemini is a global leader in consulting, digital transformation, technology and engineering services. The Group is at the forefront of innovation to address the entire breadth of clients' opportunities in the evolving world of cloud, digital and platforms. Building on its strong 50-year+ heritage and deep industry-specific expertise, Capgemini enables organizations to realize their business ambitions through an array of services from strategy to operations. Capgemini is driven by the conviction that the business value of technology comes from and through people. Today, it is a multicultural company of 270,000 team members in almost 50 countries. With Altran, the Group reported 2019 combined revenues of €17billion.
For more information, visit www.capgemini.com. People matter, results count.
About Amazon Web Services
---
In 2006, Amazon Web Services (AWS) began offering IT infrastructure services to businesses in the form of web services — now commonly known as cloud computing. One of the key benefits of cloud computing is the opportunity to replace up-front capital infrastructure expenses with low variable costs that scale with your business. With the Cloud, businesses no longer need to plan for and procure servers and other IT infrastructure weeks or months in advance. Instead, they can instantly spin up hundreds or thousands of servers in minutes and deliver results faster.
Today, Amazon Web Services provides a highly reliable, scalable, low-cost infrastructure platform in the cloud that powers hundreds of thousands of businesses in 190 countries around the world. With data center locations in the U.S., Europe, Brazil, Singapore, Japan, and Australia, customers across all industries are taking advantage of the following benefits:
For More Information, visit https://aws.amazon.com