ESG CONSULTING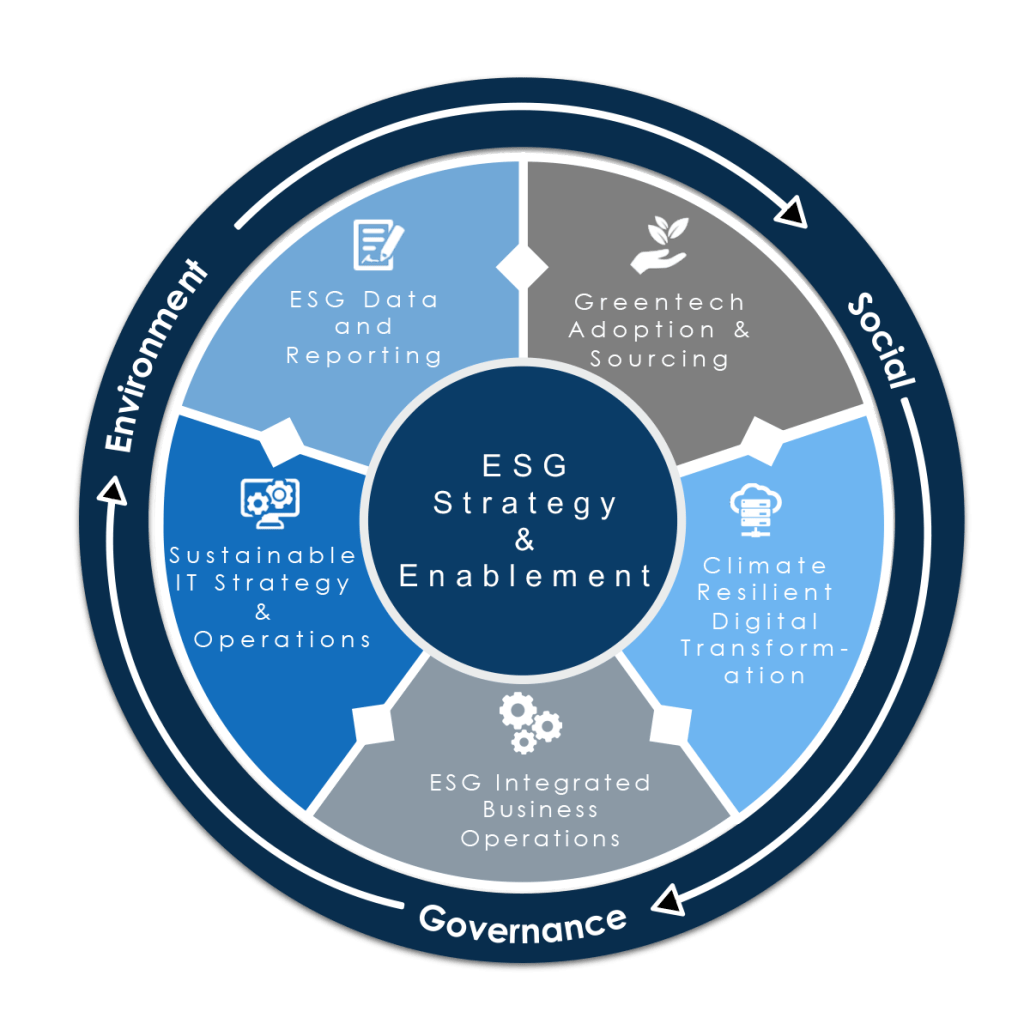 ESG has evolved from a socially responsible philosophy to a diverse operational and investment strategy to align business with values better. The rewards of adopting ESG practices go beyond appeasing shareholders and building a good public relations story. Avasant's data and technology-driven ESG consulting services enables clients to develop ESG enablement roadmaps, integrate ESG into operations and establish metrics driven ESG reporting to ensure achievement of purpose driven business goals in compliance with global sustainability standards.
Contact us to learn more about our ESG consulting services.
GREENTECH ADOPTION & SOURCING
Identify, select, source and implement the right Greentech solutions and services aligned with sustainability goals.
Avasant's Greentech Adoption & Sourcing services address the business' sustainable technology requirements by evaluating fit for purpose Greentech products and services, assisting in the selection, sourcing and contracting process, supporting the implementation and adoption through program and change management.
CLIMATE RESILIENT DIGITAL TRANSFORMATION
Develop strategy roadmap to achieve climate resilient digital transformation by leveraging modern technology solutions.
Avasant's Climate Resilient Digital Transformation services develops sustainable strategies and roadmaps to drive digital transformation agenda of island economies and enterprises by leveraging disruptive technologies and solutions to mitigate the risks related to climate change.
ESG INTEGRATED BUSINESS OPERATIONS
Realign business functions and processes to improve operational excellence by integrating sustainability principles.
Avasant's ESG Integrated Business Operations services benchmark and redefine business functions and processes to maximize efficiencies by embedding ESG practices. Through our advisory services, we help enterprises align supply chain, logistics, MRO, HR and other business functions to the corporate ESG goals.
SUSTAINABLE IT STRATEGY & OPERATIONS
Achieve ESG compliant IT strategy and operations by improving the sustainability performance of technology solutions, services and IT/digital infrastructure.
Avasant's Sustainable IT Strategy & Operations services helps clients integrate sustainability in IT strategy and operations by identifying appropriate solutions and investments in the areas of energy efficiency, circular economy and vendor management in order to improve operational performance..
ESG DATA AND REPORTING
Establish reporting framework and governance structure for ESG imperatives and initiatives to ensure compliance and address evolving investor and customer expectations.
Avasant's ESG Data and Reporting services conducts ESG readiness assessment, develops and establishes ESG metrics, data and reporting framework aligned with relevant global standards, conducts organizational impact analysis and sets up the right governance framework to ensure compliance.
Dr. Pradeep K Mukherji
ESG CONSULTING PRACTICE LEAD