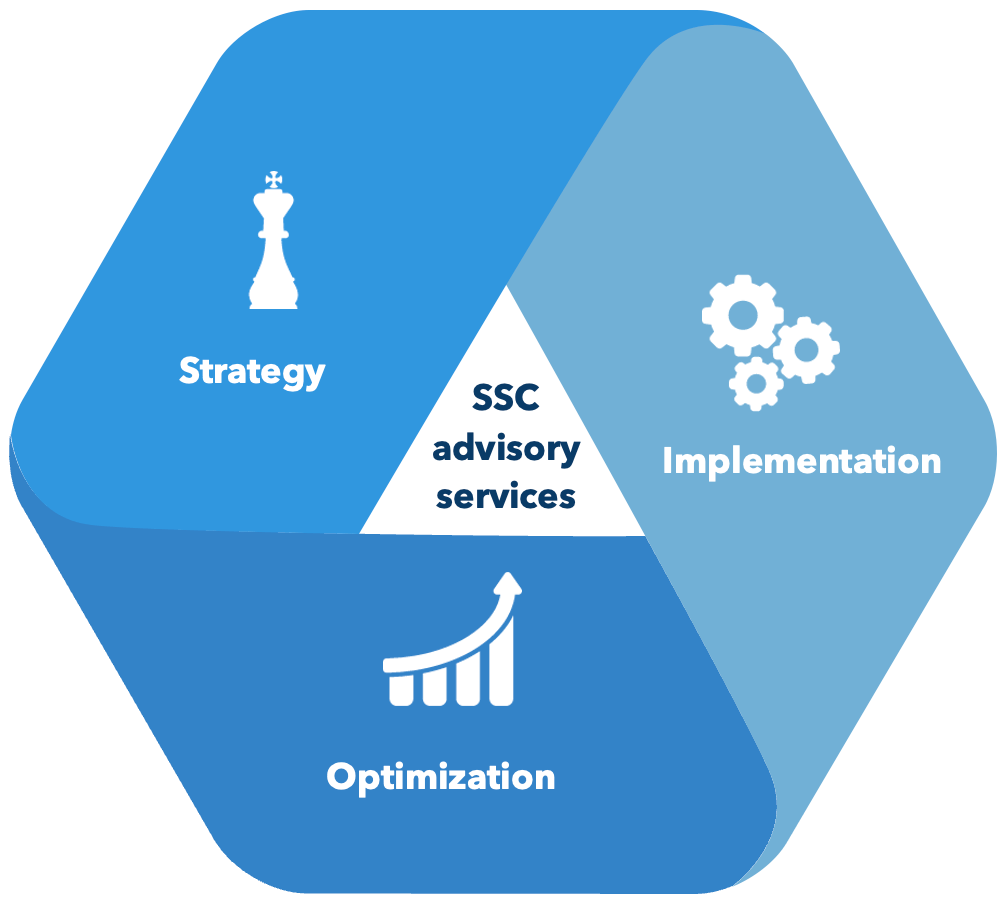 A Shared Services Center (SSC) is an internal business services location that centralizes delivery of business services, whether back-office support services or customer-facing services. SSCs allow enterprises to deliver services at a lower cost, at higher quality, and with a consistent application of best practice business processes. They are owned directly by the enterprise as opposed to contracting with an external outsourcing services provider. Some SSCs deliver business process services as well as IT services across multiple functions or business units of an enterprise.
Business services within the scope of SSCs commonly include finance & accounting, HR, procurement, legal services, customer service, and sales support. IT services often supported by SSCs, include data center, application management, and IT help desk.
Some organizations refer to SSCs as Global Capabilities Centers (GCCs), Global Inhouse Centers (GICs), Global Business Services (GBS), or, simply, Captive Centers.
Avasant provides full cycle support for SSCs, partnering with them in their journeys, from inception to scaling. We have helped Fortune 1000 companies set up SSCs in cost-effective locations, centralize processes across global locations, and design their operating models. Our services can include recruiting and staffing the SSC, transitioning service delivery, and selecting and managing outside service partners.
Our SSC consulting services are supported by Avasant's technology platforms:
SHARED SERVICES STRATEGY
Our SSC consultants develop a comprehensive strategic roadmap by assessing the opportunity, operational viability, and financial feasibility to set up and scale shared services centers. We help prioritize processes for transition to the SSC, develop the governance and operating model, define the talent strategy, and establish communication and change management disciplines.
We evaluate several scenarios including inhouse physical setup, virtual setup, strategic partnerships, hybrid and others by comparing benefits and risks of each against the organization's risk appetite and current state of enterprise operations. We develop a comprehensive business case for each scenario by analyzing setup, scale and steady-state costs across people, tax, travel, facilities, IT and communications.
Our working knowledge of 100+ global locations helps us identify the best sites for shared services centers, based on legal and tax requirements, cost of labor, ability to scale, sustainability, and supporting vendor ecosystems.
Shared Services Implementation
Our SSC advisors help the business leaders establish and run their shared services centers by managing the risks and eliminating operational roadblocks. Our implementation task force comprises of global shared service leaders that have led transition and operationalization of in-scope processes from the headquarters.
We provide support across all areas of SSC processes, people, and technology. This includes site selection, talent acquisition, establishing collaborative work models, and developing standard operating procedures (SOPs). When part of the operating model, it also includes selecting and contracting with service providers where needed. Finally, it includes designing key performance indicators and service level agreements.
We ensure success by managing the transition, establishing the governance model, and overseeing the change management and communications program.
In addition, our legal team at Avasant Law can provide end-to-end legal support to incorporate the SSC in the selected location according to local laws and regulations.
Shared Services Optimization
Once the shared services organization has been established, our consultants help the SSC maximize its value and optimize its performance. We identify key areas for development by benchmarking cost and performance, redesigning processes to reduce cycle time, and improve throughput and quality of service. We also identify opportunities for automation, redesign the organization to improve productivity, implement new technologies, and enable the SSC to take ownership of additional business processes.
We also drive the innovation agenda by identifying and piloting relevant technologies and explore relevant partnerships with investors, educational institutions, and startups. This includes developing a data strategy and implementing a data architecture to deliver business intelligence, transforming the organization to reach maturity and maximum value.
Frequently Asked Questions
What is a shared services center (SSC)?
A shared services center, or a captive center, is an internal business services location that centralizes delivery of business services, whether back-office support services or customer-facing services.
Why do organizations implement shared services centers?
Businesses implement shared services centers when they want to streamline operations by consolidating certain functions across multiple business units or departments into a central delivery unit.
When is a shared services center a better choice than outsourcing?
SSCs are a better option when the organization wants to retain control over functions or services, achieve cost savings, maintain flexibility, integrate services with existing processes, or retain knowledge and expertise within the organization.
How can we maximize the value from our shared services center?
To maximize the SSC value, you should build a strong talent pool, and continuously improving processes and systems. You should establish strong governance and performance management processes and fostering collaboration between the SSC and the business units that they serve.
What are the key steps in planning for a shared services center?
The key activities in an SSC plan should include the following:
Define the scope and objectives. First, define the scope of services to be delivered and the objectives to achieve. You should have a clear understanding of the business functions that will be supported and the value proposition for shared services center.
Identify the location. The location of the SSC is a critical decision that will impact the success of the center. Factors to consider include the availability of skilled talent, the availability of digital infrastructure, political stability, and a friendly regulatory environment.
Define the operating model. This includes the organizational structure, the governance model, and the service delivery model. These all should be consistent with and aligned with the organization's overall operating model.
Build the team. Recruiting and retaining the right talent is critical for the success of the SSC. Options for staffing may include partnering with local educational institutions, developing attractive compensation and benefits packages, and providing opportunities for career growth and development.
Establish processes and systems. The SSC should have well-defined processes and systems in place to ensure that services are delivered efficiently and effectively. This may include implementing a shared services platform, establishing service level agreements, and regularly monitoring performance.
Manage risks. Setting up a shared services center is not without its risks. These include risks of regulatory compliance, geopolitical risk, and risk of talent attrition. It is important to have a comprehensive risk management plan in place to mitigate these risks and ensure the ongoing success of the center.
CHIRAG RAWAT
Shared Services Advisory Practice Lead
AVINASH BALIGA
Partner