Avasant Foundation Executive Director Wins Gold at 15th Annual Stevie Awards for Women in Business
LOS ANGELES (PRWEB) NOVEMBER 21, 2018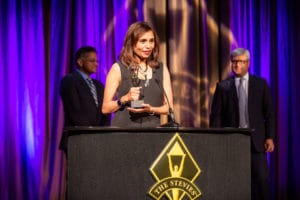 Avasant Foundation, a private not-for-profit organization, that empowers youth in emerging economies through education, employment and entrepreneurship, is proud to announce that Chitra Rajeshwari, its Executive Director, was awarded Gold in the Transformational Sourcing Relations Leadership category at this year's Stevie Awards for Women in Business., as part of HCL's Red Ladder Women in Technology initiative. Avasant Foundation is the not for profit arm of global management consulting firm Avasant that supports youth around the world in gaining digital skills and employment. All winners were honored on Friday night at the 2018 Awards dinner at the Sheraton New York Times Square Hotel in New York City.
The Stevie Awards for Women in Business honor women executives, entrepreneurs, employees, and the companies they run worldwide. Hailed as the world's premier business awards, the Stevie Awards for Women in Business received a record number of nominations this year with more than 1,500 entries submitted for consideration in more than 90 categories. Following a month of judging by over 200 business professionals from around the world, finalists were revealed in early October.
"I am truly honored to receive this award which to me is the gift wrapping on the transformational work I do with my team.
Although the Stevie award recognizes the role of women in various roles, to me it is an affirmation of going beyond the call of duty to help underprivileged youth see the immense power of learning and become role models in their societies & co
mmunities. I am immensely grateful to every person who has worked hard and contributed to making my task achievable. But I still have a long way to go and am confident this award will spur me on to greater successes in the years ahead," remarked Rajeshwari, "I likewise look forward to supporting the next generation of female leadership, hopeful that the path ahead is paved to offer hope for women's successes in whichever field they choose."
Rajeshwari was brought on board at Avasant Foundation in January 2014, with the goal of aligning corporate social responsibility initiatives for Avasant, LLC by leveraging its expertise in globalization, rural economic development, skills development and technology services. Avasant Foundation's mission is to identify and support programs that uplift and provide opportunities to the needy, especially youth, in underdeveloped and emerging economies.
"Chitra's unique strategic thinking, innovative problem solving abilities, and courage to push the envelope has resulted in successes beyond our expectations," said Kevin Parikh, Chairman of Avasant Foundation, and Global CEO of Avasant, LLC. "We are incredibly proud of the work she has accomplished."
For additional information about the Stevie Awards for Women in Business and the list of winners in all categories, please visit stevieawards.com/women/2018-stevie-award-winners.
About Avasant Foundation
Avasant Foundation (AF) is a private, 501(C)3, not-for-profit organization that empowers youth in emerging economies through education, employment and entrepreneurship. The Foundation collaborates with Avasant LLC and its affiliates, leveraging expertise in globalization, rural economic development, skills development and technology services.
To date, Avasant Foundation has directly impacted the lives of more than 30,000 youth across Asia, Africa, and Latin America. Our efforts have been recognized by the Rockefeller Foundation, Clinton Global Initiative, and more.
To learn more please visit http://www.Avasantfoundation.org.
About Avasant
Avasant is a leading management consulting firm focused on translating the power of technology into realizable business strategies for the world's largest corporations. Specializing in digital and IT transformation, sourcing advisory, global strategy, and governance services, Avasant prides itself on delivering high-value engagements through industry-focused innovation and flexible client-based solutions.
Our seasoned professionals have an average of 20 years of industry-honed expertise, having conducted 1000+ engagements in over 50 countries. Avasant's next generation consulting and advisory methods have made it the top-ranked firm in its class, with recognition from numerous organizations, including: Vault, NOA, IAOP, and Wall Street Journal.
Avasant's engagement in the global market has inspired a strong commitment to community and purpose. Avasant Foundation supports technology and skill development programs to create employment opportunities for youth across Africa, Asia, the Caribbean and Latin America.
For more information, visit https://avasant.com.
Follow news, photos and video on Twitter at http://www.twitter.com/avasant, Facebook at https://www.facebook.com/avasantllc, and LinkedIn at https://www.linkedin.com/company/avasant.
About the Stevie Awards 
Stevie Awards are conferred in seven programs: the Asia-Pacific Stevie Awards, the German Stevie Awards, The American Business Awards®, The International Business Awards®, the Stevie Awards for Great Employers, the Stevie Awards for Women in Business and the Stevie Awards for Sales & Customer Service. Stevie Awards competitions receive more than 10,000 entries each year from organizations in more than 70 nations. Honoring organizations of all types and sizes and the people behind them, the Stevies recognize outstanding performances in the workplace worldwide. Learn more about the Stevie Awards at http://www.StevieAwards.com. HCL Technologies sponsored the Red Ladder Women in Technology Awards in the 2018 Stevie Awards for Women in Business.
Contact:
Nicole Dulay Marketing Manager Avasant nicole.dulay@avasant.com