Avasant Recognized for Digital Youth Employment Commitments at CGI 2016
Los Angeles, CA
- At the Clinton Global Initiative (CGI) 2016 Convening, Avasant Foundation Chairman, Kevin Parikh, and Executive Director, Chitra Rajeshwari, were recognized for the success and growth of the Foundation's Digital Youth Employment Commitments in the Caribbean over the last two years. In early 2016, AF developed a sustainable and scalable technology training program in Port-au-Prince, Haiti that prepared 30 high-pote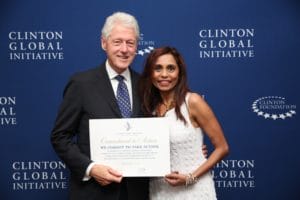 ntial, disadvantaged youth aged 18-28 for employment with Digicel, NatCom and other leading ICT and BPO employers. Also in 2016, the Foundation scaled its impact in Jamaica, successfully training and enabling employment for over 123 youth in Kingston and Montego Bay. Participants in the Foundation's Digital Youth Employment Initiative gain employment at rates of over 90% after receiving training in demand-driven skills in customer service, communication, and basic technology as well as field experience.
About Clinton Foundation & Clinton Global Initiative
The mission of the Clinton Global Initiative is to turn ideas into action. Established in 2005 by President Bill Clinton, the Clinton Global Initiative (CGI), an initiative of the Clinton Foundation, convenes global leaders to create and implement innovative solutions to the world's most pressing challenges. CGI Annual Meetings have brought together 190 sitting and former heads of state, more than 20 Nobel Prize laureates, and hundreds of leading CEOs, heads of foundations and NGOs, major philanthropists, and members of the media.
About Avasant Foundation
Avasant Foundation's mission is to empower high potential, disadvantaged youth in emerging economies across the world through education, employment and entrepreneurship. Avasant Foundation (AF) is the non-profit arm of Avasant, a global business strategy firm with a specialization in ICT & outsourcing. Avasant Foundation trains youth in demand-driven skills for employment and career success in the digital economies of today and tomorrow.