Avasant recognized for Excellence in Strategic Partnerships 2021
Los Angeles, CA | August 10, 2021
This Press Release was originally published in
IAOP.
The member-based association that brings together buyers, providers and advisors to improve outsourcing outcomes, today announced its Excellence in Strategic Partnerships Recognition winners, organizations demonstrating excellence in collaboration, innovation and outcomes.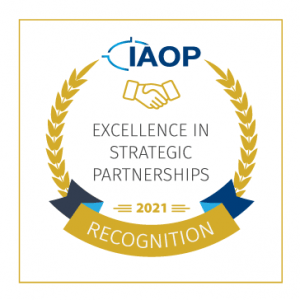 "Once again, we have a robust list of organizations not simply working together, but going above and beyond to partner for success," said Debi Hamill, IAOP CEO.  "I am pleased to honor these companies and their steadfast commitment to each other and to excellence. It has been a challenging 18 months for our industry and we are grateful for the continued dedication of those providing exceptional service and solutions as well as the buyers who lean in on collaboration for truly exceptional results." To be considered, organizations completed the optional portion of the Global Outsourcing 100 application dedicated to excellence in strategic partnerships and were asked to demonstrate collaborative problem solving, impactful innovation, as well as mutually beneficial outcomes and value.
About IAOP
IAOP is the global association that brings together customers, providers, and advisors in a collaborative, knowledge-based environment that promotes professional and organizational development, recognition, certification, and excellence to improve business service models and outcomes. Our members and affiliates worldwide are digging deep at IAOP conferences, learning at IAOP chapter meetings, getting trained and certified at IAOP courses and workshops, and connecting through IAOP social media, all with one goal: better business results. Whether you are a customer, provider or advisor, new to collaborative business models like outsourcing, or you are an experienced professional, IAOP connects you and your organization to our growing global community and to the resources you need to get the results your company deserves and demands. For more information and how you can become involved, visit
www.IAOP.org
.
About Avasant
Avasant is a leading management consulting firm focused on translating the power of technology into realizable business strategies for the world's largest corporations. Specializing in digital and IT transformation, sourcing advisory, global strategy, and governance services, Avasant prides itself on delivering high-value engagements through industry-focused innovation and flexible client based solutions. Our seasoned professionals have an average of 20 years of industry-honed expertise, having conducted 1000+ engagements in over 50 countries. Avasant's next generation consulting and advisory methods have made it the top-ranked firm in its class, with recognition from numerous organizations, including: Vault, NOA, IAOP, and Wall Street Journal. Avasant's engagement in the global market has inspired a strong commitment to community and purpose. Avasant Foundation supports technology and skill development programs to create employment opportunities for youth across Africa, Asia, the Caribbean and Latin America. For more information, visit https://avasant.com. Follow news, photos and video on Twitter at
http://www.twitter.com/avasant
, Facebook at
https://www.facebook.com/avasantllc
, and LinkedIn at
https://www.linkedin.com/company/avasant
.