Avasant Showcases the Future of the Digital Economy at Empowering Beyond Summit, Washington, DC
LOS ANGELES, CA (PRWeb), June 20, 2017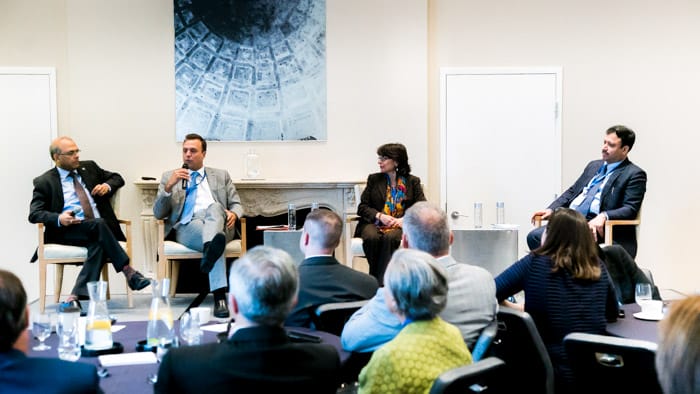 Global Management Consulting firm Avasant hosted its annual Empowering Beyond Summit at the W Hotel Washington DC on June 7th. The event featured CIOs from firms like the World Bank, European Bank for Reconstruction and Development (EBRD) and the Inter-American Development Bank (IDB). Over 50 senior executives from major financial institutions, NGOs, and donor firms like the World Bank, International Monetary Fund, Howard University and Freddie Mac attended this invitation-only event. The summit's theme "Shaping the Future of the Digital Economy" focused on how the next generation of digital services will drive new economic value and job growth in emerging economies. Speakers addressed the difficult challenges many development agencies are facing today, such as:
How can the global workforce align and upskill to meet the demands of the digital economy?
How can private-public collaboration realize digital technology's potential to benefit humankind?
Opening keynote by Avasant CEO, Kevin S. Parikh, set the right tone with the concept of digital singularity and what it means for the human society. Parikh noted, "As digital technologies accelerate, it's important for development agencies to be in sync to take advantage of these and other emerging technologies rather than become a victim of change." Following the opening keynote was a thought leadership panel discussion with executives from EBRD, IDB, and World Bank to discuss the new economic development model for the future digital world. Keynote speakers, Louise McCarthy, CIO Transformation of EBRD, and Nuria Simo, CIO of IDB, spoke about their enterprise transformation initiatives and how they have incorporated digital business solutions, keeping the future workforce in mind. This thought leadership event was part of Avasant's Empowering Beyond series, intended to be a forum for a broad spectrum of technology leaders around the world to examine technology trends, social impact, and opportunities for economic growth. The event was co-sponsored by Zensar Technologies. View photos and presentations from Empowering Beyond Summit: Washington, DC 2017: 
https://avasant.com/events/empowering-beyond-summit-2017-washington-dc/
Watch a video recap of the event: 
http://hubs.ly/H0826yD0
. About Avasant Avasant is a leading management consulting firm focused on translating the power of technology into realizable business strategies for the world's largest corporations. Specializing in digital and IT transformation, sourcing advisory, global strategy, and governance services, Avasant prides itself on delivering high-value engagements through industry-focused innovation and flexible client-based solutions. Our seasoned professionals have an average of 20 years of industry-honed expertise, having conducted 1000+ engagements in over 50 countries. Avasant's next generation consulting and advisory methods have made it the top-ranked firm in its class, with recognition from numerous organizations, including: Vault, NOA, IAOP, and Wall Street Journal. Avasant's engagement in the global market has inspired a strong commitment to community and purpose. Avasant Foundation supports technology and skill development programs to create employment opportunities for youth across Africa, Asia, the Caribbean and Latin America. For more information, visit
https://avasant.com
. Follow news, photos and video on Twitter at
http://www.twitter.com/avasant
, Facebook at
https://www.facebook.com/avasantllc
, and LinkedIn at
https://www.linkedin.com/company/avasant
. Contact Nicole Dulay Marketing Manager Avasant
nicole.dulay@avasant.com