Blockchain: Building Trust in the New Normal
During the pandemic, organizations slowed their blockchain investments as they gave top priority to business continuity, remote and hybrid work, cybersecurity, and digital transformation. Now, however, as we emerge from the pandemic, organizations are showing renewed interest in blockchain, especially around new use cases in the medical supply chain, healthcare surveillance, and procurement optimization.
These emerging trends are covered in Avasant's Blockchain Services 2021– 2022 RadarView™. The report gives organizations a view into key blockchain trends and developments shaping the market and helps in identifying the right service providers that enterprises can partner with to adopt blockchain.
Avasant evaluated 32 providers using three dimensions: practice maturity, partner ecosystem, and investments and innovation. Of those 32 providers, we recognized 20 who brought the most value to the market during the past 12 months.
The report recognizes service providers in four categories:
Leaders: Accenture, IBM, Infosys, TCS, Tech Mahindra, and Wipro
Innovators: Capgemini, Cognizant, HCL, LTI, and NTT DATA
Disruptors: Atos, DXC, EPAM, and Innominds
Challengers: Birlasoft, CGI, Coforge, UST, and Zensar
Figure 1 from the full report illustrates these categories: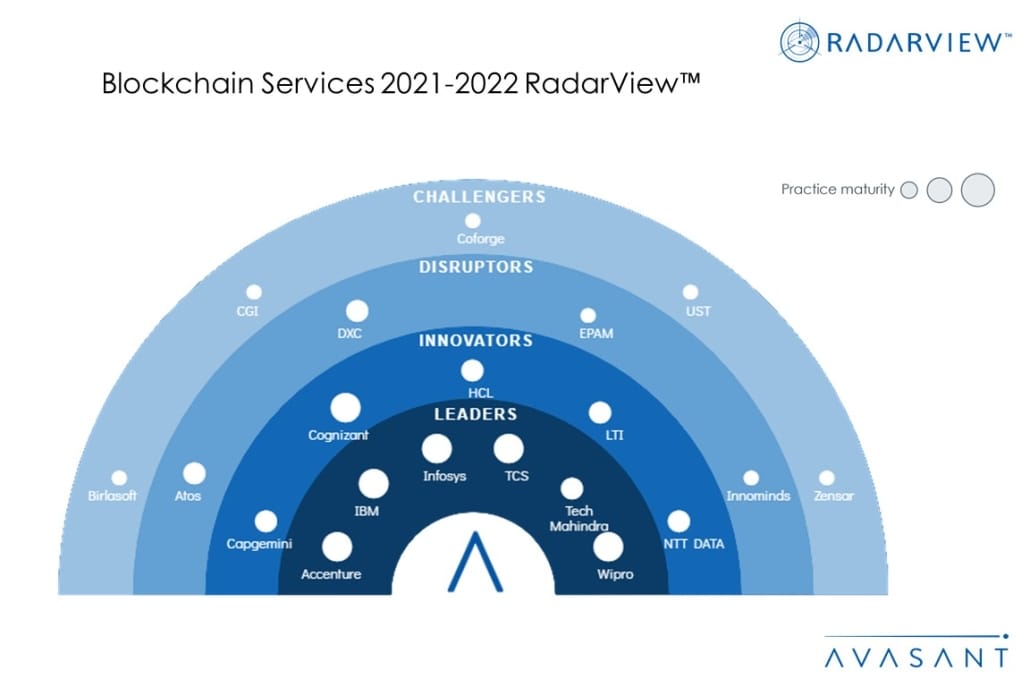 "Once the pandemic hit, many of those blockchain initiatives didn't seem as urgent as they once did," said Swapnil Bhatnagar, senior research director at Avasant. "But now, as we emerge from the pandemic, business leaders are restarting those blockchain projects, especially in use cases where trust and privacy are critical."
The full report includes a number of recommendations for enterprise blockchain adoption, including the following:
Adopt a two-pronged strategy to create the right impact from blockchain initiatives.
Lack of clarity around practical uses of blockchain compounded by unclear ROI has temporarily halted new investments from enterprises as evidenced by the fall in pilot-grade projects.
Use a mix of short-term strategies using blockchain to reduce costs and increase transparency, while pursing long-term strategies using blockchain to transform business processes.
Identify the right business case and governance for blockchain.

The pandemic enabled blockchain to make significant strides in healthcare and life sciences, along with areas such as digital assets, an enterprises' DeFi, and digital identity.
However, not having a dedicated business case and governance is hampering blockchain adoption. Enterprises must make blockchain a strategic priority and increase investments in staffing for blockchain.
Leverage providers to resolve scalability, interoperability, and security challenges.
Providers can help deliver services that are agnostic to the underlying platform and are scalable.
Service vendors can provide cloud-based infrastructure and reduce initial costs through a blockchain-as-a-service model. Other models of delivery such as co-innovation and platform-driven, along with flexible pricing models, can help enterprises start quick and with low capital expenditure.
"Blockchain will never reach mainstream adoption if it is only used in pilot projects and not delivering real business value," said Shwetank Saini, Avasant research leader. "But when blockchain, combined with other digital technologies like IoT and AI, has real potential to boost enterprise value," said Shwetank Saini, Avasant research leader.
The full report also features detailed RadarView profiles of 20 service providers, along with their solutions, offerings, case studies, and experience in assisting customers in blockchain initiatives.
---
This Research Byte is a brief overview of the Blockchain Services 2021– 2022 RadarView™ (click for pricing).
---