Enterprise Security Orchestration Platforms – Gravitating Towards AI-Enabled Tools and Contextual Indicators
October 2020 
The traditional 
enterprise security 
platform 
is
 evolving
.
They now
 incorporat
e
 more capabilities into a single enterprise SOAR 
(security orchestration, automation, and response) 
platform.
The SOAR value proposition has become more evident 
during
 the C
OVID
-19 pandemic
, because
 organizations require multi-functional capabilit
ies
 to secure 
themselves 
against new threat
s
.
These tools help solve security challenges 
resulting from
 a distributed workforce, more BYOD devices
,
 and cloud solutions
.
Th
is trend
 is 
examined in
Avasant's
 new report, 
ENTERPRISE SECURITY ORCHESTRATION PLATFORMS
 2020 RADARVIEW
™
a comprehensive study on the 
security orchestration 
platforms
 marketplace
. It
 featur
es
industry-first insights, analysis, and a close look at the leaders, disruptors, innovators, and challengers in this market
.
This report help
s
 enterprises identify the right enterprise security orchestration platform
 for their needs
. It assesses platform providers bas
ed on
 their automation capabilities, number of predefined playbooks, built-in integrations, flexibility in pricing model
s
, efforts to reduce TCO, maturity
,
 and scale of operations
.
It also 
highlights 
the key market trends and 
Avasant's
 view o
f
 the enterprise security orchestration platform providers over the next 12 to 18 months
.
We
evaluated 20 providers of enterprise security orchestration platforms
,
using
 a 
rigorous methodology across 
three
 dimensions (product maturity, enterprise adaptability, and innovation roadmap)
. The report
 recognize
s
 14 
providers 
that brought the most value to the market over the last 12 months. These are presented against key metrics to help 
buyers
differentiate between market products and find the right solution to fit their needs
.
The 
report
 recognizes 
tool vendors
 in four categories: 
Figure 1 from the full report
illustrates these categories
: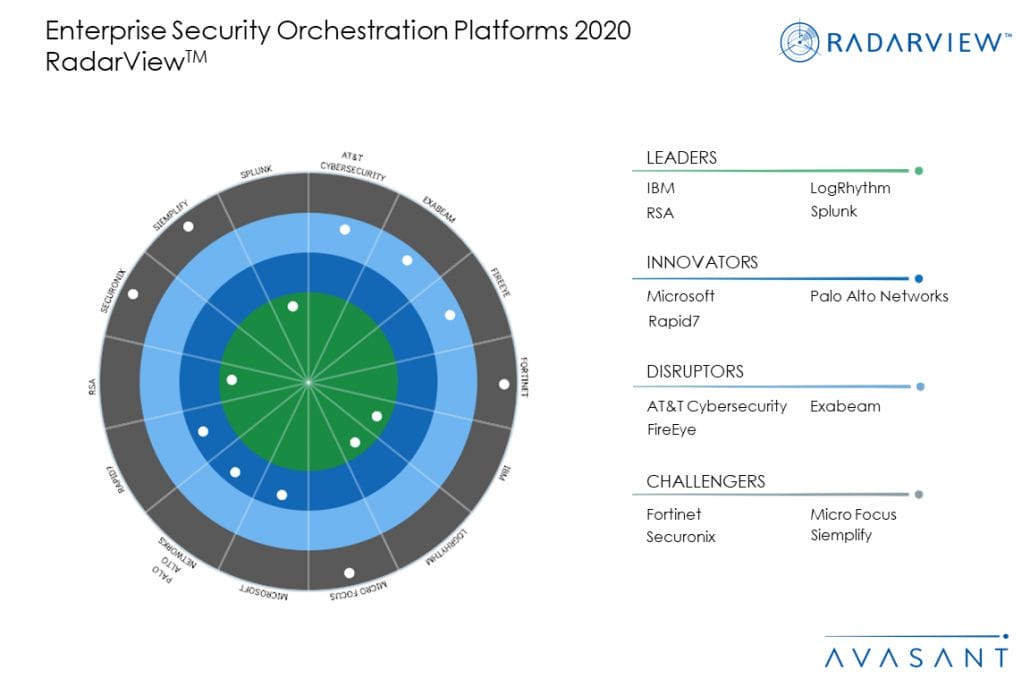 "During a year of radical change, companies
 should be prepared to address changes in how both employees and customers engage with businesses, driving further digital transformation
," Avasant's Associate Director Mark Gaffney said. "
While technologies such as mobility, virtualization, cloud, and collaboration tools are transforming many enterprises, they have also expanded the risk 
perimeter
security threats
. 
With 
many more
 devices connected to 
the
 network, 
the security team needs
 to automate the incident response processes and integrate disparate security tools into a single enterprise SOAR platform."
The report 
also highlights other trends, including
 the following:
Tools are maturing from SIEM

(security incident and event management) 

to SOAR and utilizing centralized tools

:

 
The r

ise in 

the 

threat landscape has led to a greater need for SIEM providers to expand 

the 

scope from 

a 

few data sources, such as firewalls and intrusion detection systems, and enhance interoperability with new security tools

. These include

 

e

ndpoint 

d

etection 

and

 

r

esponse (EDR), 

u

ser 

and

 

e

ntity 

b

ehavior 

a

nalytics (UEBA)

,

 and 

n

etwork 

t

raffic 

a

nalysis (NTA) tools

.

 

Many cybersecurity providers have also jumped on the SOAR bandwagon via acquisitions

.

 
Focus on

a 

cloud-first approach toward business models and product strategy

:

 
Seeing the rising demand for SaaS-based solutions, all the major security platform providers have introduced cloud-based version

s

 of their platform

s

. Th

is 

bring

s

 the functionalities of on-prem solution

s

 and reduce

s

 

the 

time to deploy 

along with

 

ease 

of

 administration and maintenance of the platform

. 

 

As firms modernize 

their 

IT infrastructure or migrate apps to 

the 

cloud, 

security 

platform providers have started offering unlimited data plan

s

, allowing user

s more flexibility

.

 
Providers are deploying an ecosystem and service-centric approach

:
As part of the larger ecosystem strategy, some of the leading platform providers introduced free 

community edition, free foundational training courses, online community and marketplace 

to enable their customers and partners to experiment and start small

.

 
These providers are also offering 

customised implementation support, architecting, and configuration, and enabling Centre of Excellence development on request basis

.

 
Roadmaps

are 

focused on playbooks, built-in integrations, and AI-driven engines

 
Security p

latform providers continue to augment their portfolio

s,

 focus

ing

 on efficient threat remediation. This includes building structured and dynamic incident response playbooks to support customized workflows and help reduce mean time to resolution

 (MTTR)

.

 

SOAR providers have also

 been expanding with newer integrations with the leading security providers to deliver end-to-end security

.

 Lastly, 

they 

are 

developing 

AI-enabled tools for improved threat remediation

.

 
"
D
ata theft and ransomware 
are 
becoming significant threat vector
s
,
" 
Avasant's
 Research Leader Gaurav Dewan said
. "Because of that,
 a proactive 
security 
approach 
that includes
 measures such as threat hunting, threat deception, threat prevention, and threat intelligence becomes imperative
.
Security platform providers
,
understanding
 the evolving security landscape, have augment
ed
 their platforms 
to deal with the new realities."
The report features RadarView 
p
rofiles of the top 14 
platform providers
 and their 
security orchestration
 solution
s
. 
This Research Byte is a brief overview of the full 
Enterprise Security Orchestration Platforms 2020 RadarView
™
r
eport
(
click for pricing
)
.