RCM Outsourcing on the Rise Due to COVID-19 and Changing Reimbursement Models
Los Angeles, April, 2021
Healthcare providers are facing pressure to shift from fee-for-service reimbursement payment models to value-based care models which emphasize patient outcomes. This shift is driving digital transformation with a focus on core operations and enhanced patient experience. COVID-19 is also accelerating this trend, particularly when it comes to digital patient experiences such as telehealth and remote patient monitoring. This digital transformation is driving providers to outsource more revenue cycle management (RCM) functions. These emerging trends are covered in Avasant's new report
RCM Business Process Transfromation 2021 RadarView™
. The report is a comprehensive study of RCM service providers, including top trends, analysis, recommendations, and a close look at the leaders, innovators, disruptors, and challengers in this market. Avasant evaluated over 40 service providers across three dimensions: practice maturity, domain ecosystem, and investments and innovation. Of the more than 40 providers, we recognize 19 as having brought the most value to the market during the past 12 months. The report recognizes service providers in four categories: Leaders:
Access Healthcare
,
Conifer
,
Omega Healthcare
,
Optum
, and
R1 RCM
Innovators:
Cognizant
,
GeBBS
,
Genpact
,
HGS
, and
nThrive
Disruptors:
AGS Health
,
Atos
,
Ciox
,
Sutherland
, and
Wipro
Challengers:
Corrohealth
,
Ensemble Health
,
Exela Technologies
, and
IKS Health
Figure 1 from the full report illustrates these categories: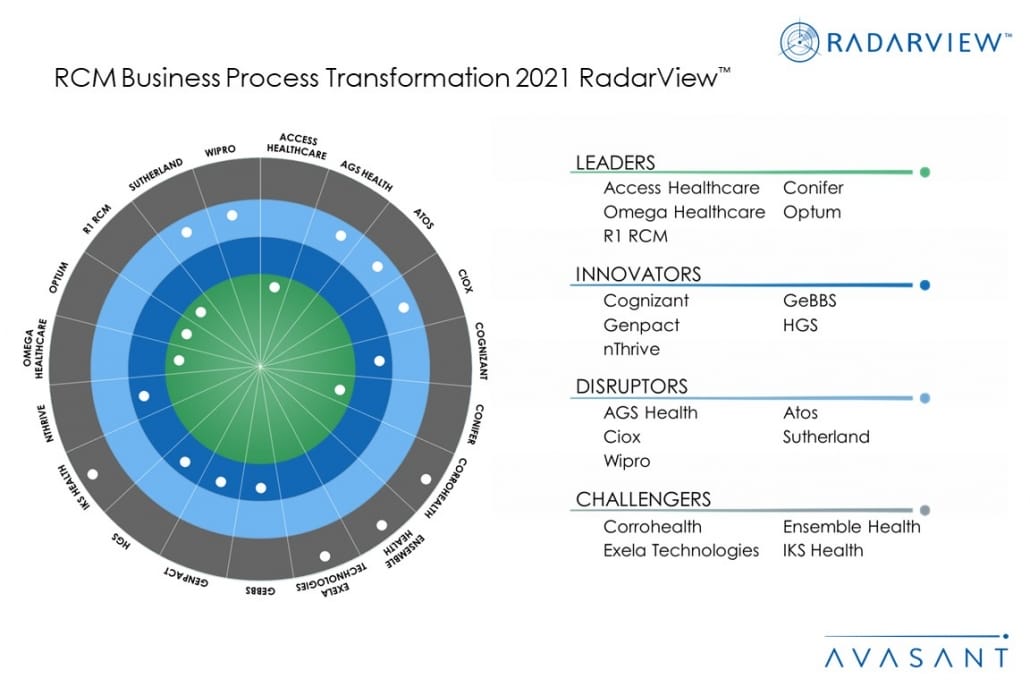 Avasant Partner Nishant Verma congratulated the winners. "COVID-19 reinforced the need for remote diagnostics and care solutions, forcing healthcare providers toward digital transformation," he said. "This led to unprecedented growth in the adoption of automation, AI, platforms, and customer engagement apps to transform operations." Some of the findings from the full report include the following:
The pandemic reinforced the need for digitization and automation of all patient touchpoints, including scheduling, payment, and telehealth, to reduce no-shows and boost satisfaction.
Healthcare consumerism is pushing providers to focus on meeting customer expectations regarding price transparency and patient experience, thus accelerating the self-service technology available to patients.
Increased denials, due to rising errors during manual intervention in coding, insurance eligibility verification, patient information capture, and claims submissions, are plaguing providers. This has increased the adoption of robotic process automation (RPA) and artificial intelligence (AI) in mid-cycle and backend processes.
RCM providers are pursuing mergers and acquisitions with technology vendors and service providers to offer end-to-end RCM services, augment predictive analytics solutions, and enhance cloud-based RCM capabilities.
"RCM service providers are expanding their digital and domain capabilities, enabling low-/no- touch operations for several healthcare providers and this is forging strategic partnerships between them," said Avasant's Research Leader Saurabh Verma. "We expect an increase in the adoption of outsourcing and expansion of the scope of engagements." The full report also features detailed RadarView profiles of 19 service providers, along with their solutions, offerings, and experience in assisting enterprises in digital RCM transformation. This Research Byte is a brief overview of the
RCM Business Transformation 2021 RadarView™
report