Hybrid Cloud: Centerpiece To It Modernization
Los Angeles, December 18, 2020
Cloud has progressed from the simple migration of infrastructure and applications to a tool which improves application performance and achieves cost optimization. Hybrid cloud, in particular, is an enabler of business transformation. Hybrid cloud allows enterprises, especially in highly regulated industries, to satisfy on-premises requirements and leverage hyperscaler services from their own data centers. These emerging trends are covered in Avasant's 
Hybrid Enterprise Cloud Services 2020 RadarView™ 
report. The report is a comprehensive study of industry-wide adoption of hybrid cloud services, including the current landscape, impact of COVID-19, enterprise recommendations, and a close look at the leaders, innovators, disruptors, and challengers in this market. Avasant evaluated 40 providers using three dimensions: practice maturity, partnership ecosystem, and investments and innovation. Of those 40 providers, we recognize 26 as having brought the most value to the market during the past 12 months. The report recognizes service providers in four categories:
Figure 1 from the full report illustrates these categories: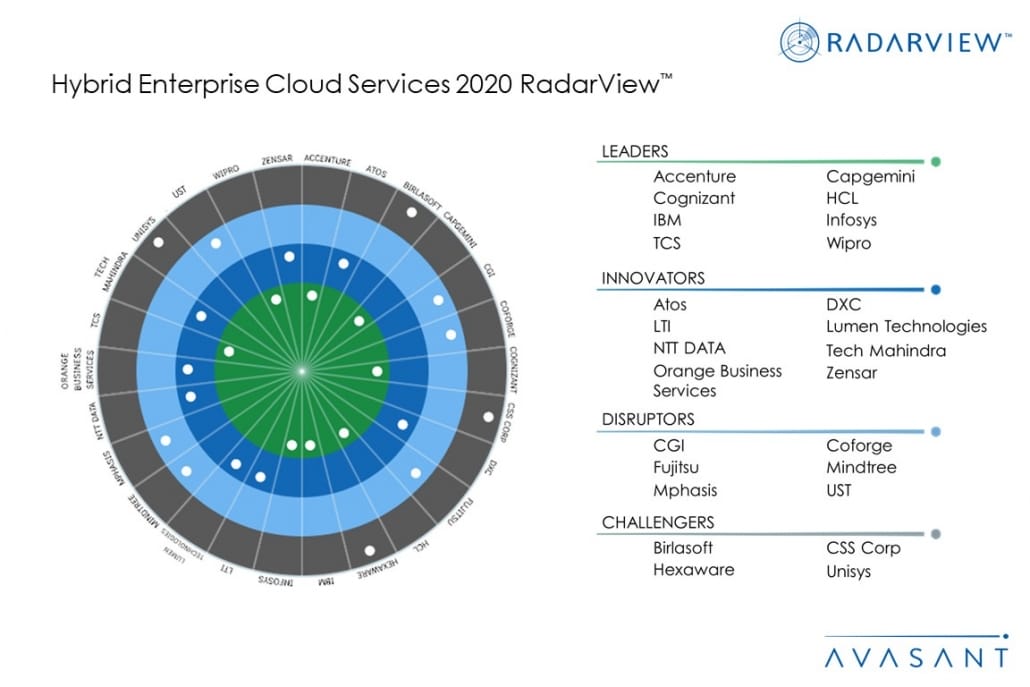 Anupam Govil, a Partner and Digital Practice Lead with Avasant, congratulated the winners noting, "The pandemic is the nitro-boost to an already growing cloud adoption trend. As enterprises face pressure to enhance agility and resilience through increased use of the cloud, the implementation cycles have been shortened from years to weeks to align with reduced IT budget." Some of the findings from the full report include the following. Enterprises should
Engage with a service provider that covers the full cloud lifecycle:
Enterprises should collaborate with service providers that offer end-to-end cloud solutions integrated with cloud security. This includes an advise (develop a business case and cloud strategy), build (deploy and implement using a cloud-native approach), and run (manage and optimize) method.
Service providers continue to augment their portfolio and develop new IPs/assets that help enterprises to assess, design, and simulate cloud solutions and provide a customized cloud roadmap.
Choose right environment to flexibly move workloads:

As different business units operate in silos and adopt varied cloud tools/platforms based on business needs, it becomes imperative to engage with a service provider that provides services across public and private cloud platforms, supporting the three major hyperscalers: AWS, Azure, and Google Cloud.
In fact, the private and public cloud boundaries are getting blurred as hyperscalers develop private cloud carveouts in the public environment, such as VMware Cloud (VMC) on AWS.
Increased cloud adoption has shifted focus from data to identity protection:

Increased adoption of SaaS-based solutions, enterprises virtualizing their systems, and users accessing data remotely through personal devices and home networks to navigate the pandemic has escalated risk significantly.
There is a need for the federation of identity, granular access permissions, and adaptive authentication through measures such as SSO, MFA, and PAM across various cloud environments.
Take proactive measures for robust GRC mechanisms:

Multicloud deployments bring a range of legal and regulatory challenges. The security of personally identifiable information (PII) and sensitive personal information (SPI) data needs to comply with the regional and industry regulatory standards such as FedRAMP, GDPR, PCI DSS ,and HIPAA.
Also, data compliance needs to be addressed at all levels of a hybrid cloud environment, from the infrastructure through the application, including touch points with integrated third-party/SaaS tools.
"Hybrid clouds can be complex. Finding a good partner can make all the difference between a cost-effective cloud with no siloes, and a governance nightmare with a series of disconnected clouds racking up unneeded expenses." said Avasant's Research Leader Gaurav Dewan. The 
full report
 also features detailed RadarView profiles of the 26 service providers, along with their solutions, offerings, and experience in assisting enterprises in digital transformation.
---
This Research Byte is a brief overview of the Hybrid Enterprise Cloud Services 2020 RadarView™
report
(click for pricing).
---