The phrase "technology hub" does not generally conjure up images of tropical islands, but that may soon change as the Caribbean region is redefining and repackaging the islands as a tech haven. More specifically, Trinidad and Tobago is at the cusp of becoming the region's true technology hub, provided the island nation learns to effectively surf the oncoming digital technology wave.
Trinidad is known for its rich natural resources. However, natural resources are not enough to foster sustainable development. Business and government leaders understand the need to diversify the country's economic portfolio. As such, Trinidad is implementing measures to check those innovation boxes of desirability, viability, and feasibility by creating an environment for technology to thrive. The twin islands already have a history of innovation: They are the home to the only acoustic instrument invented in the 20th century—the steel drum. Surrounded by creative energies, innovation is in the perfect environment to bear fruits for success.
On July 6, 2022, the American Chamber of Commerce's (AMCHAM) Trinidad and Tobago's Tech Hub Island Summit (THIS) 2022 outlined five ways Trinidad and Tobago is a prime location for tech innovation.
National Tech Ecosystem and Marketplace
Local businesses have the right environment to flourish, as they can export tech services to international markets. Developing a critical mass of local talent has enabled the fruition of a national tech ecosystem and marketplace. In Trinidad and Tobago, approximately 400 students graduate annually from local universities with degrees and certificates in information and computer technology. The Ministry of Youth Development and National Service collaborates with the MIC Institute of Technology to facilitate computer science courses focusing on coding, mobile application development, and web design. These courses have a target audience of youth between the ages of 16 and 25.
Young, local disruptors have the opportunity to collaborate with established businesses to use technology to devise solutions for business needs. AMCHAM hosted a tech-trade mission alongside the Canadian High Commission, allowing local and Canadian firms to connect and seek business partnerships. AMCHAM also collaborated with a team from Google to host the BreakbeatCode hackathon. The hackathon taught 50 young people on the island to code through music. The private and public sectors are investing in the people of Trinidad and Tobago to support and navigate human resources in the digital world.
However, the key to positioning Trinidad and Tobago as a regional technology powerhouse is digitalization and leveraging technology as a business multiplier. Trinidad and Tobago's tech ecosystem should aim to reduce overall business overhead by simplifying and increasing the speed of transactions through digital payment apps, cashless transactions, product tracking, and tracing services. Domestic businesses must fully adopt digital solutions to create the desired tech ecosystem. Digital adoption not only has a multiplier effect on larger enterprises but also on local mom-and-pop shops. The more digitally adept companies are, the more doors will open for other businesses and entrepreneurs to innovate and develop digital products and services for local, regional, and international exportation.
Carnival as an NFT Product
There is even an opportunity for the islands in the metaverse. Trinidad and Tobago's carnival, dubbed the "Greatest Show on Earth," is a two-day street parade that immerses participants in the festivities of the country's culture. But why limit the experience to only those who can physically visit the islands? Trinidad's carnival already has an international appeal. Therefore, carnival as a product is ready to jump into the metaverse and transition to carnival-as-a-service.
Caribbean artists and creatives have already begun reaping the benefits from their NFT collections. Trinidadian Anya Ayoung-Chee, season 9's Project Runway winner, and Trinidadian artist Nicholas Huggins have each launched NFT collections. Anya's collection is an audio-visual NFT collection called WYLD TING, a genesis of her brand of festival wear WYLD FLWR. Michael's collection, the Carnival MetaVendors project, is digital art alluding to a metaverse-themed Trinbagonian Carnival. Trinidad carnival can explode in the metaverse with the potential of creating limited-edition carnival costumes, digital fashion skins, virtual carnival fetes, digital soca albums, and NFT tickets. Carnival—farewell to the flesh—fits perfectly with the virtual connotations of the metaverse.
FinTech Ecosystem
There are also opportunities for Trinidad and Tobago in FinTech. The nation has the largest financial services industry in the English-speaking Caribbean, which positions the country to develop an environment for a FinTech ecosystem to thrive. FinTech is integrating technology within the banking and financial services sector. From a historical perspective, FinTech has been evolving since 1886, when telegrams and morse code were the first technologies used to move money around. The first era of financial technology, 1886-1967, established the infrastructure, such as the telegraph, to facilitate global financial transactions. The second phase, 1967-2008, was the switch to the digitalization of finance. The current period, 2008-present, includes the advent of cashless payment systems, mobile apps, new digital-only financial services firms, and alternate forms of money such as cryptocurrencies using blockchain, automation, and other emerging technologies.
The Central Bank of Trinidad and Tobago has developed a FinTech policy to promote and support financial innovations. There are three principles to this policy:
Open but cautious FinTech position: The bank understands the technological advantages and innovation possibilities for improving the financial landscape. However, it is mandated to provide financial stability and is mindful of the potential risks that new technologies may pose to the financial system.
Commitment to engage with FinTech enterprises: To achieve the shared objective of ensuring a secure and stable financial, social, and economic environment, the Central Bank, the Trinidad and Tobago Securities and Exchange Commission (TTSEC), and the Financial Intelligence Unit of Trinidad and Tobago (FIUTT) are dedicated to effectively engaging and guiding FinTechs. This principle has not remained only on paper. On August 10, 2022, the Central Bank of Trinidad and Tobago gave provisional authorization to PayWise, a payment service provider, to issue electronic money in Trinidad and Tobago.
Regulator collaboration to facilitate FinTech innovation: The formation of the Joint FinTeh Steering Committee facilitates effective coordination among domestic regulators on Fintech-related issues that affect all three regulators – the Central Bank, the TTSEC, and the FIUTT. These regulatory authorities also are developing something called a Joint Innovation Hub and Regulatory Sandbox. The objective of this Innovation Hub is to help regulated or unregulated businesses through the regulatory environment or address supervisory policy or legal issues and concerns by offering support, advice, or guidance. The Regulatory Sandbox is still under development, but the vision is to enable organizations to test their new financial products or services in a controlled environment to ascertain whether such products or services can safely enter the domestic financial landscape.
Additionally, TTSEC has created a FinTech Policy that will serve as a road map for how the Commission will carry out its legislative mandate concerning FinTech. It aims to serve as the foundation for how the Commission will implement global best practices for regulation and oversight of FinTech within the nation's securities sector.
Local regulators all aim to promote the expansion, innovation, and adoption of a safe and stable FinTech ecosystem in Trinidad and Tobago. However, this is one segment where the neighboring islands are working to steal the thunder, with Barbados and Jamaica also creating conducive environments for developing fintech solutions.
Aspirations as a Global Nearshore Provider
In addition to the island's technology scene in the Caribbean, Trinidad and Tobago's resources and highly skilled talent pool provide an environment to become a world-class nearshore provider. With the island's proximity to North and South America, its geographical location is ideal for transatlantic business relations. The country's favorable economic and political climate and tax incentives also make it attractive as a destination for foreign investors looking to close the gap in their digital skills.
Reducing costs to increase profits is one of the many objectives of a business. Nearshoring is a strategic approach to accomplish that objective. Trinidad and Tobago is coming at pace and pushing itself to be a competitive global nearshore provider. The country's highly educated, English-speaking people and technological infrastructure set the standard. Its culture, geolocation, and stable political system make it a solid long-term investment for a prosperous future.
Businesses have already taken the opportunity to take advantage of the positive qualities that Trinidad and Tobago offers as a nearshore provider. For example, in 2016, iQor set up its first contact center facility in Trinidad. Three factors attracted iQor to Trinidad as its nearshore location. First, InvesTT's (an investment promotion agency that reports to the Ministry of Trade and Industry) commitment to support iQor enabled its smooth transition into the fabric of society. Second, there is the availability of a well-educated domestic workforce. Finally, the island's location, below the hurricane belt, combined with reliable telecom infrastructure, supports business continuity. iQor now operates three facilities in Trinidad – Wallerfield, Barataria, and Chaguanas.
Also, Jamaica is another alternative in the Caribbean for the outsourcing sector. The country is now home to some of the larger BPO services providers and employs over 40,000 people in the industry, making it the second-largest employer after the tourism sector. In line with changing market demands, Jamaica is now targeting higher-value services through the Global Services Sector initiative, a 5-year program funded by the Inter-American Development Bank to position Jamaica as a higher-value services destination.
Legislative Environment
The ability to balance risk and innovation is a vast task for any government. Technology has outpaced regulators, and regulators are now playing catch-up. Because current legislation and policies are inadequate to address the digital economy, the emergence of tech ecosystems poses new regulatory issues. Cybersecurity measures and data protection policies are essential tenets of the digital journey. Regulators should take proactive approaches to avoid the stifling of tech innovation.
Trinidad and Tobago is setting the stage for legislation that ensures the success of the island's digital ecosystem. In this vein, two pieces of legislation are in the works to support the regulatory and legislative environment of the tech space—the Electronic Transactions Act and the Data Protection Act. Electronic signatures in Trinidad and Tobago are governed under the Electronic Transactions Act, Chap 22:05 (the "ETA"). The ETA, partially declared in 2012, aims to give legal effect to electronic documents, records, signatures, and transactions on the islands. Similarly, the Data Protection Act is also partially proclaimed. The purpose of the six-part Act is to preserve an individual's right to privacy and establish the right to keep sensitive personal information as personal, private, and confidential. These eventual legislative enactments and policies to protect the free sharing of open data are testaments that Trinidad and Tobago is sowing the seeds for technology innovation to blossom.
While Trinidad and Tobago holds significant potential, it has to be more proactive to ensure a well-rounded digital ecosystem and long-term success. Avasant's Global Equations framework evaluates the digital readiness of a location across key foundational service delivery pillars and provides a holistic assessment of its digital standing. It also enables locations to identify existing gaps and comparative advantages, supporting better policy decisions and preparedness for a technology-driven global service delivery ecosystem. Figure 1 compares three Caribbean locations based on the five delivery pillars in the Global Equations framework.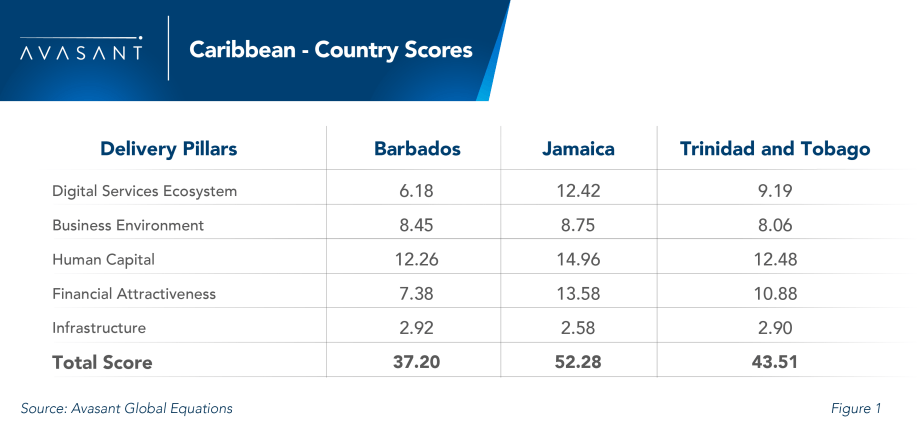 Based on this analysis, Trinidad and Tobago is currently ahead of Barbados in terms of digital readiness, but lags Jamaica. Trinidad and Tobago is in a strong position to become a tech hub in the Caribbean, but will need to follow through to capitalize on these opportunities.
"The question is: what do we do next? The answer is to continue building on what we created," said Toni Sirju-Ramnarine, president of AMCHAM Trinidad and Tobago. "Today's competitiveness is about being innovative. Digital transformation can be the engine of our economic growth and sustainability."
Enterprises require digital talent to support their digital transformation journeys in this digital era. Trinidad and Tobago, and by extension the Caribbean region, is strategically located to provide a cost-effective and educated workforce to support the international community in the transition to this digital-everything world. But one constraint is the size of these islands. Trinidad and Tobago is only 1.4 million in population size. Is it possible for the islands to be as competitive as Silicon Valley and Beijing? Perhaps, but that level of scale is unlikely. Nevertheless, small countries like Ireland and Hungary have established robust technology services sectors. The Caribbean, as a whole, would provide a strong nearshoring option for North and South America. Despite its small population, Trinidad and Tobago has the resources and infrastructure to establish itself as a technology hub in the region. With a thriving financial sector, multinational companies are taking notice of the twin island state.
---
By Tracell Fredrick, Research Analyst, Avasant
Avasant Director Rejo Sam contributed to this report.