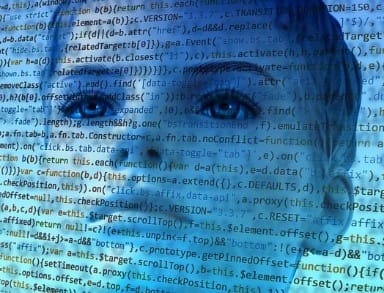 To gain the attention of customers, prospects, and analysts, enterprise software vendors are always on the hunt for the next big thing. During the past decade, social networking, mobile apps, the Internet of Things, and data analytics have all filled this need. But during the past year or so, their attention has shifted to artificial intelligence.
When we hear the term artificial intelligence (AI), most of us immediately think of the AI we encounter in our personal lives: web ads based on our search history, facial recognition on Facebook, or the interactive voice response systems of our banks or insurance companies. Or, maybe we think of personal digital assistants, such as Siri (Apple), Alexa (Amazon), or Cortana (Microsoft). In other words, we all use AI on a personal level, whether we call it AI or just expect it to be part of our everyday experience as consumers.
Just as social networking and smartphones took hold first in the consumer world and then moved into business, we can also expect artificial intelligence to begin to move into business applications in a natural way. As Dave Wagner, vice president of research for Computer Economics, wrote, "The virtue of presenting AI as something for everyone is that it starts to reduce the sense that AI is magic or incredibly high-tech and starts to make it seem like just another technology for business."
Enterprise software vendors are banking on this statement to be true. And what they are revealing at their events is that they have been investing lots of time and money to embed AI into the core of their business software.
Nearly every large, and many of the smaller, business software providers are moving in this direction. Here are examples from just three of them.
Infor in Healthcare and Manufacturing
Infor has been working with its upstart Dynamic Science Labs since 2014 to bring to life its version of an AI tool dubbed Coleman (named after NASA research mathematician Katherine Coleman Johnson). At a recent analyst event, Infor demonstrated the power of its tool through client case studies. In one healthcare-industry case study, Infor executives showed how these new AI capabilities embedded within their business analytical tools are moving business data from reporting to interactive dashboards to smart insights and now action.
Within healthcare, monitoring staff levels and medical supply inventories to provide quality services is a constant battle. The ebb and flow of patients with routine procedures and medical emergencies seems unpredictable. In a demo scenario, Infor showed how a hospital utilized Infor's business intelligence and artificial intelligence capabilities built into its ERP system. The hospital was able to match real-time information about admissions and discharges with key performance indicators, such as patient inflows by department, emergency room wait times, and average time by procedure. The system also brought in external data on county health trends. The system then processed this tremendous volume of data through AI models, which provides proactive insights to alert hospital supply chain managers with anticipated supply issues, as well as make recommendations on changes to staffing levels.
Healthcare is just one area of focus at Infor. Executives also showed how AI can assist field service operations. They demonstrated what happens when a part fails on an engine in a customer's factory. Through IoT connectivity, the machine alerts the equipment vendor of the failure and that a repair part is required. Through the use of AI and business rules, the vendor's field service system issues a purchase order for the replacement part and ships the part to the customer's plant. The system also schedules a field service request to coincide with the arrival of the part. As the field service technician comes on to the customer's site, the system senses his arrival via GPS and logs him in to the field service order. Now as he inspects the engine needing repair, he sees that the engine is an older model and not one with which he is familiar. To assist him, with the use of 3-D goggles, the system then steps him through the removal and replacement of the failed part.
Microsoft in Sales and Marketing and Supply Chain
Early this year, Microsoft announced a deeper incorporation of AI into Power BI and Dynamics 365. One primary focus for AI is in sales and marketing, where Microsoft can leverage its purchase of LinkedIn and its vast set of data points. Microsoft is also using in-field telemetry of signals (IoT-enabled devices) received from products to determine service needs and proactive actions to provide a higher level of service.
In addition, Microsoft has been leveraging its Azure Machine Learning in many applications. One of its largest impacts may be on the supply chain. Logistics providers, manufacturers, and distributors have always been challenged by the numerous variables that impact customer demand and their ability to deliver products and services, which are constrained by factors such as transportation, weather, and customs clearance. All have potential for delays. Microsoft's services group has already been gaining experience in applying machine learning to supply chain applications for several large customers, generating significant benefits.
Salesforce in E-Commerce
Salesforce, with its Einstein offering, provides another example of embedding AI within core business applications. Although Einstein can be leveraged across many use cases, a good example is how Salesforce is using Einstein as an integral part of its Commerce Cloud. As the shopper clicks through a retailer's website looking for an item, the Salesforce commerce site is learning from every click. Is the shopper looking for women's or men's clothing? Is she looking for a designer handbag or a hiking backpack? As the shopper moves through the site, the system presents her with the items she will most likely want to see. Frequent customers will have even more of a customized-shopping experience, leading to greater customer loyalty.
Because Einstein is part of the Salesforce platform, it means that AppExchange partners building on the platform can also incorporate AI into their systems, if they so choose.
AI within Reach
We have only highlighted three of the major enterprise software providers here, to illustrate how nearly all of them are incorporating some level of AI into their core business applications.
Although artificial intelligence has its roots in computer science going back decades, it is only now that it is poised to gain widespread acceptance, not only in consumer applications but in business processes as well. Enterprise software providers are making this possible by embedding AI capabilities into their core systems. Expect to see more of this in the coming years.
What will this mean for businesses? The good news is that organizations will not need to hire computer scientists or invest large sums to develop their own AI systems. The best-of-breed AI models are out there already, and vendors are working with clients at the cutting edge to build even more models and embedding them in their business systems. However, organizations will need to invest in business software that has these capabilities. For organizations still on older, legacy systems, this will be one more reason to upgrade or replace those systems.
________________________________________
Analysis by Dee Long, from our sister management consulting firm, Strativa.