Application maintenance and support personnel currently make up 11.3% of IT staff, but there is reason to believe that number could fluctuate or even decline in the next few years. A growing software footprint in most organizations is masking the reality that the need for application maintenance is dropping due to the use of software as a service, improved best practices, and a reduction in legacy systems. Right-sizing the app maintenance staff will become increasingly important in the coming years.
As shown in Figure 1 from the full report, Application Maintenance Staffing Ratios, over the past two years (prior to two years ago, we did not divide application maintenance and application developer staff into two separate sections) there is a small but noticeable increase in the application maintenance staffing level. Application maintenance personnel rose from a median 10.5% of the IT staff in 2016 to 11.3% in 2017, based on our annual survey of more than 200 IT organizations.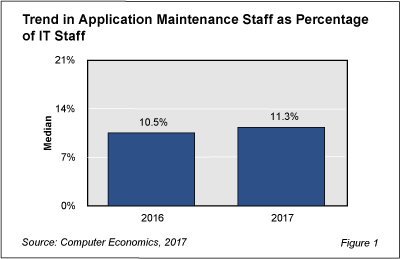 Along with SaaS, other services such as artificial intelligence, machine learning, and business intelligence will likely put downward pressure on the app maintenance staffing level. But for now, our research shows that the growing number of applications in most organizations is outweighing the reduced need for maintenance staff.
"For now, the app maintenance staff has ticked up slightly," said Tom Dunlap, director of research at Computer Economics, an IT research firm based in Irvine, Calif. "But depending on your sector, your use of custom software, and how quickly you are growing your application footprint, the trend toward more maintenance staff could decline long term."
How do we define application maintenance and support? These job functions include personnel involved with the maintenance and support of business applications. They include application programmers who troubleshoot, debug, and make routine changes and version upgrades to applications. This category also includes application-specific support specialists. It does not include business analysts, database administrators, or application developers, who belong in their respective categories. The category also excludes managers who oversee development activity, and it specifically excludes personnel who fall into related but separate categories as defined by our IT staffing categorization framework.
To determine what the typical staffing level is today, the full report uses three metrics to make that assessment: application maintenance personnel as a percentage of the IT staff, users per app maintenance staff member, and applications per app maintenance staff member. We provide benchmarks for the composite sample, by organization size, and by sector. We also provide a benchmark for the larger application group, which includes personnel engaged in application development, web/e-commerce support, quality assurance and testing, data management, and business systems analysis.
---
This Research Byte is based on our report on this subject, Application Maintenance Staffing Trends. The full report is available at no charge for Computer Economics clients, or it may be purchased by non-clients directly from our website (click for pricing).