In the previous decade, medical coding was largely a slow and error-prone manual process. The adoption of ICD-11 has only exacerbated this problem. With automation technologies now delivering accuracy, agility, and process visibility, adoption of autonomous medical coding (AMC) products is growing. However, choosing the right AMC product is not easy. There are dozens on the market, and they are not created equal.
The next evolution of medical coding technology will likely be much faster. As artificial intelligence/machine learing (AI/ML) and natural language processing capabilities have matured, many organizations are actively evaluating the large-scale adoption of AMC. Organizations are looking to leverage such products to develop the holy grail—a medical coding process that can convert clinical information into coded data to obtain reimbursement from insurance providers without any human intervention. In addition, AMC products also enable transparency by providing an audit trail of autonomous coding. This step minimizes the chances of error and helps enhance the accuracy of the model through a ML algorithm as and when the AMC product comes across complex patient encounters.
This RadarView Scan is a comprehensive study of key vendors that offer autonomous medical coding products. The insights covered in the report include key industry challenges, autonomous coding benefits, and vendor and product assessments. It takes a close look at the leaders, innovators, disruptors, and challengers in this market.
We evaluated 17 autonomous medical coding product vendors using three dimensions: product maturity, enterprise adaptability, and future readiness. Of the 17 providers, we recognized 10 that brought the most value to the market during the past 12 months.
The report recognizes vendors in four categories:
Leaders: NYM Health and Buddi AI
Innovators: CorroHealth, Megaputer, and Meduit
Disruptors: Access Healthcare, Aidéo Technologies, and Nividous
Challengers: Artificial Medical Intelligence and Fathom Health
Figure 1 from the full report illustrates these categories: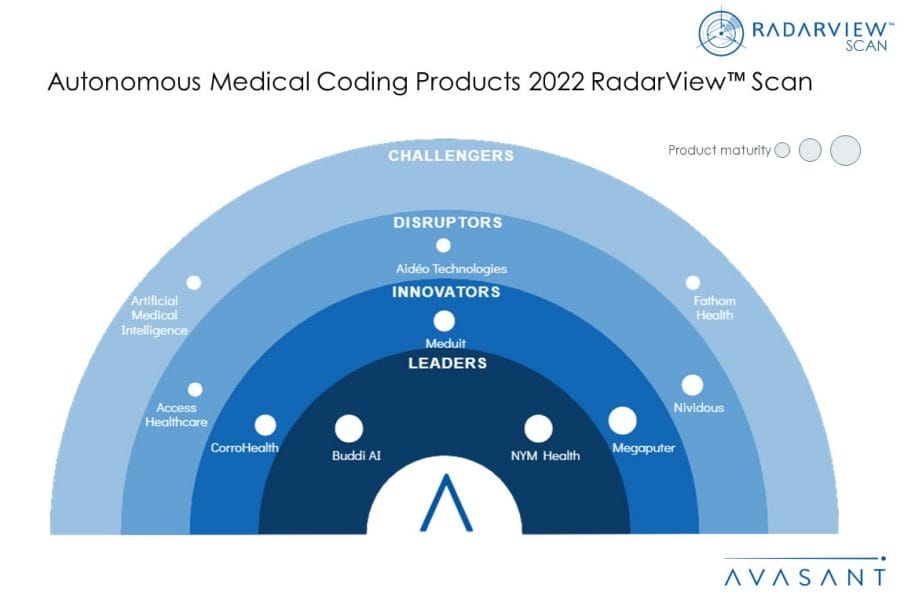 "Autonomous coding products are now mature enough for large-scale enterprise adoption," said Avinash Baliga, Avasant healthcare industry vertical head. "Progressive provider organizations should seriously consider piloting and evaluating AMC products to take the early-mover advantage."
Healthcare providers and revenue cycle organizations seek product partners that can transform their existing coding process. Vendors and startups have invested millions into research around their AMC products. Avasant's Autonomous Medical Coding Product 2022 RadarView™ Scan evaluates the core offerings of these vendors and provides a comprehensive assessment of their overall capabilities. The report also stacks these vendors against each other to analyze the competitive landscape and help healthcare and revenue cycle management providers downselect product vendors for their process transformation needs.
"As end-user organizations start pilot studies, the landscape of AMC product vendors is expanding rapidly," said Anand Tiwari , Avasant principal analyst. "The race is now on to make a product that can handle increasingly complex patient encounters and also be able to identify additional revenue opportunities."
The full report features detailed RadarView Scan profiles of 10 product vendors, along with their solutions, offerings, product features, and value delivered to their clients.
---
This Research Byte is a brief overview of the Autonomous Medical Coding Product 2022 RadarView™ Scan (click for pricing).
---