With uncertain macroeconomic conditions, increasing natural calamities, and rising inflation, insurers are dealing with a huge number of claims. Insurers must find new ways to continue innovating through this challenging period. For property and casualty (P&C) insurance providers, this translates to a significant impact on nearly every category of insurance due to the rising claims expenses and costs. Even though they are losing money, they need to invest continuously to offer better quality and customer experience. With the emergence of technologies such as IoT, AI, and telematics, insurers can adopt a more proactive strategy for forecasting, identifying, and mitigating risks, and to support these, they rely on outsourcing claims processing to service providers. This is evident from a 15%–20% increase in the revenue of claims processing outsourcing service providers between March 2022 and March 2023.
Demand-side and supply-side trends are covered in our Claims Processing Business Process Transformation 2023 Market Insights™ and Claims Processing Business Process Transformation 2023 RadarView™, respectively.
These reports present a comprehensive study of claims processing service providers and closely examine market leaders, innovators, disruptors, and challengers.
Avasant evaluated 44 service providers across three dimensions: practice maturity, domain ecosystem, and investments and innovation. Of the 44 providers, we recognized 21 that brought the most value to the market during the past 12 months.
The RadarView recognizes service providers in four categories:
Leaders: Accenture, Cognizant, EXL, Genpact, and Wipro
Innovators: Conduent, Firstsource, HCLTech, Infosys, and WNS
Disruptors: CGI, Coforge, DXC Technology, Exela Technologies, Hexaware, Sutherland, and Virtusa
Challengers: Datamatics, Mphasis, ReSource Pro, and Xceedance
Figure 1 below from the full report illustrates these categories: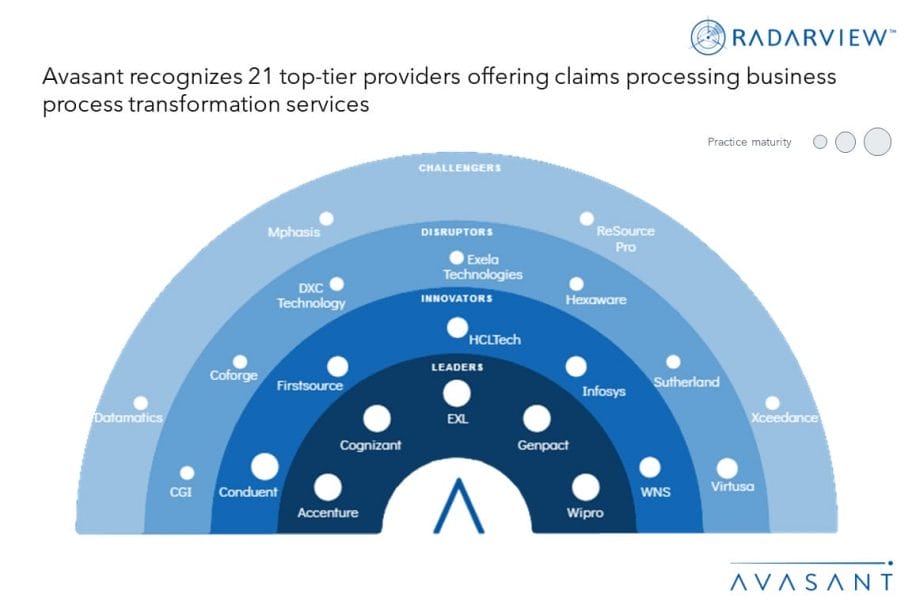 "Insurers continue to invest in domain-specific technologies and platforms across the claims ecosystem to provide enhanced customer experience," said Matthew Barlow, partner at Avasant. "They are leveraging technologies such as automation, generative AI, and digital intake solutions to focus on areas such as claims intake and complaints and appeals."
The reports provide several findings, including the following:
The COVID-19 pandemic and the war in Ukraine have accelerated existing trends and elevated the importance of considering geopolitical factors in business strategies and resource allocation. Rough estimates suggest an overall industry loss of $20.6B.
Insurers leverage IoT, analytics, and AI/ML tools to facilitate touchless claims decisions and prevent fraud.
Insurance companies employ advanced data technologies, including predictive modeling and analysis, to enhance their fraud detection programs and stay ahead of fraudulent claims. These technologies help identify suspicious claims early in the process, allowing quicker action to combat fraud.
Pressure from insurtechs and customer expectations have forced traditional companies to remain competitive in the digital claims landscape.
The increasing social unrest and natural disasters have heightened consumer awareness. The existing protection gap allows insurers to generate significantly more revenue. The gap was estimated to be $1.1T in pensions and natural catastrophes and has doubled since 2000.
"Changing customer expectations and rising complexities are pushing insurers to build innovative solutions," said Aditya Jain, principal analyst at Avasant. "Insurers are partnering with service providers to automate claims assessments, speed up payments, and prevent fraud, to support end-to-end digitization of claims."
The RadarView also features detailed profiles of 21 service providers, along with their solutions, offerings, and experience in assisting enterprises in their cservices journey.
---
This Research Byte provides and an overview of the Claims Processing Business Process Transformation 2023 Market Insights™ and Claims Processing Business Process Transformation 2023 RadarView™ (click for pricing).
---