Customer relationship management (CRM) systems have become one of the most widely adopted categories of enterprise applications. Widespread adoption of CRM systems is being encouraged by a number of current trends, such as current economic conditions, the strategic benefits of increased customer knowledge, new CRM requirements driven by digital commerce, and rising expectations for mobile access.
Our study, Current Trends in CRM Adoption and Customer Experience, shows a significant jump in 2011 in organizations with CRM systems in place, while the percentage of organizations investing in CRM continues to increase despite weak economic conditions. While 36% of organizations had CRM systems in place in 2009, that figure has increased to over half (51%) in 2011, as shown in Figure 2 from the full study.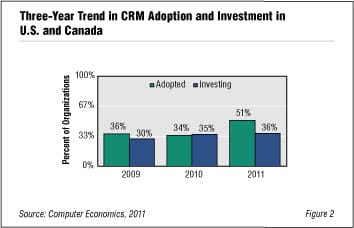 During the same period, the number of organizations making current year investments in CRM rose steadily from 30% in 2009 to 36% in 2011. Organizations are upgrading, expanding, or modifying the functionality in their existing CRM systems at a relatively high rate compared to other technologies, and the rate has been steadily increasing.
The full study helps IT executives make better decisions regarding their CRM investments. It helps them understand how aggressively their peers are investing in CRM as well as the risks and rewards presented by those investments. We show the three-year trend in the percentage of organizations that have adopted CRM systems and are currently investing in them. We report worldwide adoption and investment rates by sector, organization size, and geography. We also measure customer experience in terms of the success rates for return on investment (ROI) and total cost of ownership (TCO). Finally, we assess CRM investment levels for new implementations and improvements to existing systems. We wrap up with our recommendations for improving the ROI of CRM.

---
This Research Byte is a brief overview of our report on this subject, Current Trends in CRM Adoption and Customer Experience. The full report is available at no charge for Computer Economics clients, or it may be purchased by non-clients directly from our website (click for pricing).