Database administrators (DBAs) comprise a small but vital part of most IT organizations. DBAs have made up a slightly shrinking but somewhat steady percentage of the total IT staff over the last four years despite the growing amounts of data that organizations are collecting and maintaining.
DBAs as a percentage of the IT staff declined slightly from 3.5% of the IT staff in 2009 to 3.1% of the staff in 2012, as shown in Figure 1 from our study, Database Administration Staffing Ratios. Given the bump in 2011, however, we could view DBA staffing levels as remaining somewhat steady amid the changing complexion of the IT staff during the course of the recession. The trend line, though, seems to show that DBA staffing levels have been in slow decline relative to the entire IT staff. IT organizations could be deploying advanced DBA tools, taking other steps to improve productivity, or increasing their use of remote DBA services.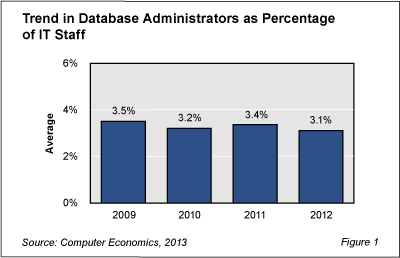 The full study helps IT managers determine whether they are keeping pace with industry standards by providing four benchmarks: DBAs as a percentage of the IT staff, DBAs as a percentage of the Infrastructure Group, users per DBA, and business applications per DBA. We present benchmarks for small, midsize, and large organizations. We also examine the influence of sector on these benchmarks as well as the three-year trend in DBA staffing.
In many respects, databases are at the core of services delivered by IT organizations. Users demand information, and the source of the information more often than not resides in databases. Thus, the need for personnel skilled in managing, testing, securing, and backing up databases is important to the overall success of the IT function.
---
This Research Byte is a brief overview of our report on this subject, Database Administration Staffing Ratios. The full report is available at no charge for Computer Economics clients, or it may be purchased by non-clients directly from our website (click for pricing).
Do you also need staffing ratios for other IT job functions? Consider this collection of all of our staffing ratio reports, which bundles them all into a single report at a significant discount: IT Staffing Ratios–Special Report Bundle.