Organizations are placing ever-increasing demands on database administrators. Application integration, the explosion in rich media, the need for faster and better business intelligence, the regulatory environment, stepped-up custom development work, and even the emergence of database-driven mobile applications are all creating need for personnel skilled in developing, managing, testing, securing, and backing up databases. On the other side of the coin, outsourcing trends and automation tools are working to restrain the growth of database administration staff.
Our study, Database Administration Staffing Ratios, finds that DBAs make up a relatively steady percentage of the IT staff over the last three years.
Figure 1 shows that DBAs declined slightly from 4.1% of the IT staff in 2007 to 3.5% in 2009. However, we attribute most of this decline to a reclassification in 2009 of data analysts and data architects to data warehousing and business intelligence staff. We believe the database administration is a function that has at least remained stable as a percentage of the IT staff over the period.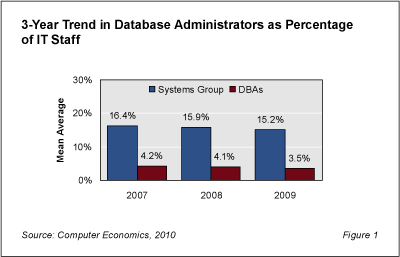 Because organizations categorize functions differently, the study also examines ratios for the broader group of system support personnel, which includes system administrators, programmers, and engineers, and computer operators and production control personnel, as well as DBAs.
The larger "systems group" shows a slightly larger and steadier decline over the same period, a trend that reflects ongoing improvements in the efficiency of data center personnel along with the reclassification of data analysts and data architects. The systems group declined from 16.4% of the IT staff in 2007 to 15.2% in 2009, based on our annual survey of more than 200 IT organizations each year.
The recession may be influencing the decline among system support personnel. Staff reductions, however, occurred across all categories and we believe there may be some longer-term trends at work, including the effects of server and data center consolidation, server virtualization, outsourcing, improvements in servers and systems management software, and other factors that are changing the IT staffing mix over time.
This full study will help IT managers determine whether their organizations are keeping pace with the industry by comparing their database administration staffing against industry benchmarks. We assess two basic metrics: database administrators as a percentage of the IT staff and terabytes of storage per database administrator. We provide these benchmarks for the composite sample, by organization, and by sector. This report also highlights the three-year trend in the staffing of the DBA function and the influence of outsourcing on DBA staffing ratios.
---
This Research Byte is a brief overview of our report on this subject, Database Administration Staffing Ratios. The full report is available at no charge for Computer Economics clients, or it may be purchased by non-clients directly from our website (click for pricing).

Do you also need staffing ratios for other IT job functions? Consider this collection of all of our staffing ratio reports, which bundles them all into a single report at a significant discount: IT Staffing Ratios–Special Report Bundle.