In recent years, DBAs have made up a somewhat steady portion of the IT staff despite the growing amounts of data that organizations are collecting and maintaining. Better database tools, automation, more reliable systems, and perhaps growth in the number of other data management specialists may explain the reason behind the restrained growth in DBA staffing.
Figure 1 from our study, Database Administration Staffing Ratios, shows that for the past four years, DBAs as a percentage of the IT staff has remained unchanged at the median. DBAs typically account for about 3.3% of the IT staff. Half of the IT organizations in our survey have DBA staffing ratios that are at this level or higher, and half have ratios that are at this level or lower.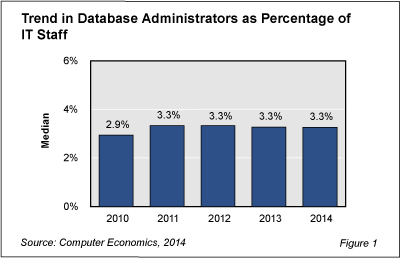 Notwithstanding the overall staffing trend, the importance of database administration is not diminishing. Historically, the database administration function arose from earlier hierarchical and network data models as online systems initially emerged in the late 1970s and early 1980s. Eventually, the relational data model took firm hold and has been the traditional basis for the current DBA function for some years. Within this model, the role of the DBA is somewhat "content-agnostic," which is to say the DBA is less concerned with what the data is than that it is secure and can be reliably delivered on demand.
Although the growth of the DBA function has been restrained in recent years, there is a counterview that all this may change in the near future, with organizations desiring to capture and analyze greater amounts of data, especially data that is external to the organization and data that is unstructured. In some cases, unstructured data—such as emails and other free-form text—can be mined for hidden trends and for deeper examination such as sentiment analysis. The increasing use of social media such as Facebook and Twitter offers much more such data that can be captured and mined for intelligence. The explosion in smart devices, which throw off gigabytes and terabytes of data, is another trend that leads to greater need for data analysis.
The full study helps IT managers determine whether they are keeping pace with industry standards by providing four benchmarks: DBAs as a percentage of the IT staff, DBAs as a percentage of the Data Center Group, users per DBA, and business applications per DBA. We present benchmarks for small, midsize, and large organizations. We also examine the influence of sector on these benchmarks. We conclude with best practices for managing DBA headcount.
For the purpose of benchmarking, we adjust staffing levels to account for outsourcing and report benchmarks by organization size. We also present a range of values within which organization's typically fall. However, the composite staffing ratios in Figure 1 are useful for assessing trends over time.
---
This Research Byte is a brief overview of our report on this subject, Database Administration Staffing Ratios. The full report is available at no charge for Computer Economics clients, or it may be purchased by non-clients directly from our website (Click for pricing).
Do you also need staffing ratios for other IT job functions? Consider this collection of all of our staffing ratio reports, which bundles them all into a single report at a significant discount: IT Staffing Ratios–Special Report Bundle.