The question of whether to turn over the desktop support function to a service provider is a critical and surprisingly complicated one. Our research shows there is a moderate cost advantage to outsourcing desktop support tasks, but other factors, including giving up control, can lead to problems.
As shown in Figure 2 from our full report, Desktop Support Outsourcing Trends and Customer Experience, only 21% of organizations outsourced at least some of their desktop support work in 2019, which is a slight drop from 22% in 2018 but the same as 2017. Essentially, the outsourcing of desktop support has been flat for the last three years after a major dip from 2015 to 2016.
Our full report also shows that the cost experience is moderate, meaning that most companies find that outsourcing desktop support usually means that the cost is the same or less than performing the service in-house.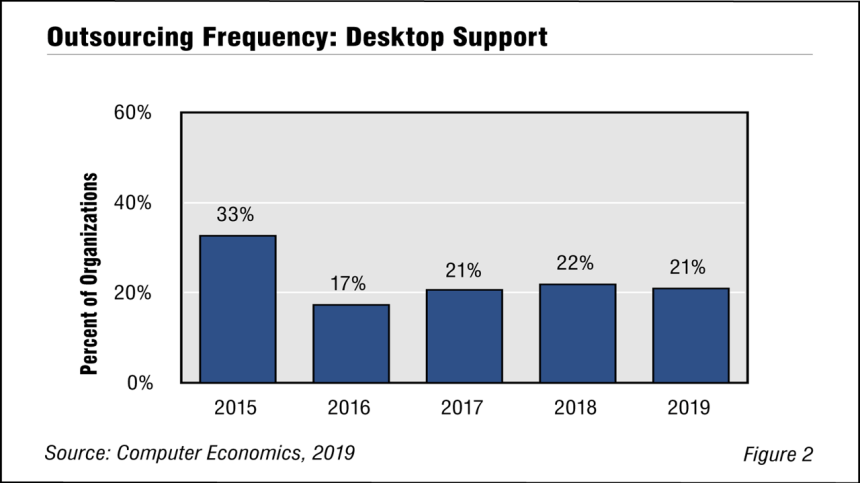 There are likely several reasons why the majority of organizations are now keeping desktop support in-house. First, desktop support outsourcing is often an economic decision, and we usually see more outsourcing as a cost-cutting measure when the economy is poor. Another factor in favor of keeping desktop support in-house is the fact that it, along with help desk support, is a major point of contact between the business and the IT organization. Handing over that function denies a significant point of contact where IT can gain the support of the business and better understand its needs and processes.
Despite these reasons to not outsource desktop support, the solid cost success ratings make it worth looking into this practice. More organizations are trying to focus on mission-critical functions, and while PCs and laptops are major business tools, they are not generally perceived as a focus for innovation or competitive differentiation. Therefore, PC support should be high on the list for outsourcing opportunities.
"Often IT leaders don't like to give up control of functions, particularly functions which directly impact users," said David Wagner, vice president for research at Irvine, Calif.-based Computer Economics. "But given how remote access, best practices, and use of SaaS is making desktop support easier, it wouldn't be surprising to see slow but long-term growth in desktop support outsourcing."
Desktop support technicians today commonly support local networks, phone systems, and printers, as well as IP networks that carry both voice and data to the desktop, and in some cases mobile devices. The relationships that desktop support technicians form with users also can be instrumental in improving user satisfaction, and the presence of desktop support technicians in the field improves communications between users and the headquarters of the IT organization.
To help IT executives understand their options, the full study examines adoption trends in desktop support outsourcing. We measure desktop support outsourcing activity through outsourcing frequency, outsourcing amount (level), overall volatility, the net growth trend, outsourcing cost experience, and outsourcing service experience. We also compare desktop support outsourcing frequency and level by organization size. Finally, the report examines the sectors that are most likely to outsource the desktop support function.
We define desktop support services as those addressing hardware and software issues mostly related to desktops and laptops. The services encompass what service providers refer to by the acronym IMAC (install, move, add, change). They also include software maintenance and support for standard PC operating systems and applications. As mentioned above, desktop support services often include support for other end-user devices, such as printers, copiers, scanners, projectors, teleconferencing devices, and LAN infrastructure.
---
This Research Byte is based on our report on this subject, Desktop Support Outsourcing Trends and Customer Experience. The full report is available at no charge for Avasant Research subscribers, or it may be purchased by non-subscribers directly from our website (click for pricing).
---