Big failures are not uncommon in IT. After abandoning a $165 million digital media initiative, BBC Director General Tony Hall last May offered his mea culpa in a press release. "Ambitious projects like this always carry a risk of failure," he wrote. "It does not mean we should not attempt them but we have a responsibility to keep them under much greater control than we did here."
While ambitious failures create headlines, an even larger risk may be the chaos that comes from operating without a plan, as inefficiencies, lack of standards, and missed opportunities gradually erode the business' competitive position. One IT best practice that claims to have the cure for chaotic projects and IT infrastructures is enterprise architecture.
However, the adoption rate and practice level of this IT management practice is low and we rate the practice as being still immature, as shown in Figure 4 from our study, Enterprise Architecture Adoption and Best Practices. The chart compares enterprise architecture against the performance of 24 other management practices in our annual survey of IT management best practices.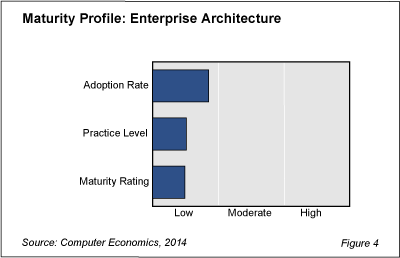 Our findings are as follows:
Adoption Rate: Relative to other practices, the percentage of organizations implementing enterprise architecture is low.

Practice Level: The practice level is even lower than the adoption rate.

Maturity Rating: Although enterprise architecture is far from new, this practice earns a low maturity rating relative to other practices in the study based on its combined low adoption and practice-level ratings.
There are several competing and complementary definitions for enterprise architecture. However, as the name implies, enterprise architecture essentially is a high-level description of the "architecture" of an organization in a future state. It typically includes a number of views, such as the organization's objectives and strategy, its operational units, its organizational structure, its business processes, and its data. As such, enterprise architecture guides IT decision-makers in evolving their IT infrastructures and systems in a way that improves integration, promotes agility, optimizes business processes, and imposes structure on its computing environment.
Enterprise architecture is both a discipline—the process of developing a plan—as well as a document, the resulting architecture itself. In theory, formally defining and describing the enterprise architecture can avoid problems that come from incompatible systems, lack of foresight, and the failure of developers to adhere to the organization's standards.
While there are various methodologies and definitions of enterprise architecture, the idea was first developed by IBM in the 1980s. The discipline gained traction as organizations began struggling with problems of integrating enterprise systems and data. It is increasingly common today to find enterprise architects, solution architects, network architects, and data architects employed by companies to address the common challenges of guiding IT development. It remains, however, a practice that is not widely adopted.
In the full study, we will examine how many organizations have adopted enterprise architecture, how many adopters have fully embraced the practice, and how many organizations are likely to adopt the practice in the future. We conclude with an assessment of the various approaches to enterprise architecture and recommendations on best practices.
---
This Research Byte is a brief overview of our management advisory on this subject, Enterprise Architecture Adoption and Best Practices. The full report is available at no charge for Computer Economics clients, or it may be purchased by non-clients directly from our website (click for pricing).