Last year, we reported that ERP was dead last in economic success. This year is no different. Enterprise resource planning systems again rank last in both return on investment and total cost of ownership. Not surprisingly, ERP also ranks near the bottom in customer satisfaction. But this does not mean that companies should not invest in ERP. ERP is a core foundational system for nearly all businesses, so business and IT leaders will need to closely manage their ERP projects to ensure they deliver their expected value.
As shown in Figure 2 of the Computer Economics Technology Trends 2021 study, ERP not only has the lowest ROI rating of all the technologies in our study, but organizations also struggled with cost certainty.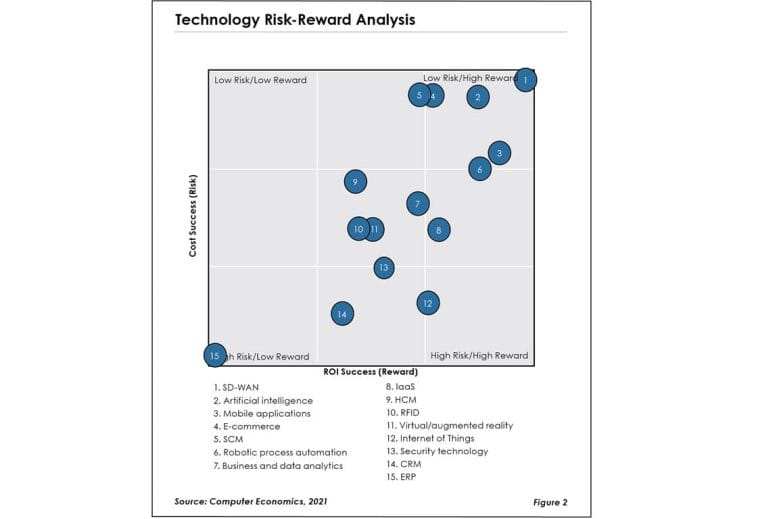 The study polled 188 IT organizations worldwide on their experience with 15 new and popular technologies and ranked them based on their risk (cost success rates, or how often they came in at the expected cost or less) and reward (ROI success rates, or the percentage of companies reporting that they broke even or saw a positive return on investment). Relatively speaking, ERP is worst in terms of both risk and reward. This is not to say that no companies see a positive return on investment or find a way to come in under budget with ERP. It is just that, among all the technologies, this happens the least often with ERP.
"ERP systems touch nearly every part of the business, so implementation is complex and requires buy-in throughout the organization," said Tom Dunlap, director of research for Computer Economics, a service of Avasant, based in Los Angeles. "ERP implementations often lead to cost overruns and dissatisfaction. But the alternative (no ERP or an aging legacy product) can be even more costly to a company."
The full study is designed to give business leaders insight into the staying power of 15 technologies that are currently top of mind for many companies. It provides a glimpse into how quickly an emerging technology is being adopted, how deeply more-established technologies are penetrating the market, and how positive the customer experience is with each technology. The study also delves into the specific types of solutions under consideration.
By understanding the adoption trends, investment activity, and customer experience, business leaders are in a better position to assess the potential risks and rewards of investing in each of these technology initiatives. They also can gain insight into just how aggressively competitors and peers are investing in these initiatives.
The full study also takes a quick look at an additional 18 early adopter and future technologies. These include blockchain, digital currencies, digital assistants, drones, autonomous vehicles, quantum computing, 5G, no-code/low-code, electronic tattoos, electronic textiles, exoskeletons, facial recognition, microchip implants, 3-D printing, brain-computer interfaces, self-healing systems, volumetric displays/holograms, and digital twins. The study evaluates whether IT decision makers are familiar with these, whether they see a potential use for them, and whether they have already implemented them or have them installed.
Sample pages from the full study are available for free download.
---
This Research Byte is a brief overview of our study, Technology Trends 2021. The full report is available at no charge for Avasant research subscribers, or it may be purchased by non-clients directly from our website (click for pricing).
---