While initial license fees and consulting services required to implement an ERP system are one-time investments, the cost of support personnel recurs year after year. There is evidence that the number of staff required to support these enterprise systems is declining, but support remains a major area of concern for IT organizations.
Figure 1 from our study, ERP Support Staffing Ratios, shows the typical range of ERP support staffing ratios for installations of all sizes. At the median, there are 55 users per ERP support staff member, rising to 125 users per ERP staff member at the 75th percentile. At the 25th percentile, each ERP staff member supports just 29 users.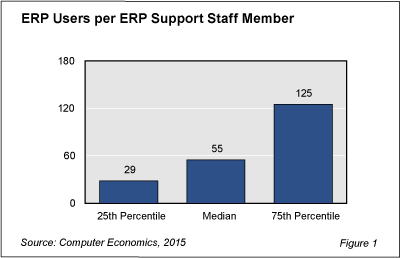 These statistics show that there is a wide range of values for the ERP support staffing ratio. At the 75th percentile, there are more than four times as many users supported by each ERP support staff member than at the 25th percentile. Given this data, it is evident that other factors influence the level of ERP support staffing.
In the full study, we present the ERP support staffing ratio by size of installation, type of vendor, and sector. We also examine the influence of such factors as age of installation, number of versions, scope of functionality, and extent of customization on ERP support staffing requirements.
The staffing ratios are based on surveys Computer Economics undertook in 2013, 2014, and 2015. We obtained responses from 369 IT organizations. The largest number of respondents was running SAP's ERP system (92), followed by Oracle's E-Business Suite (50), its JD Edwards product line (17), and its PeopleSoft product line (14). There also were 35 respondents with Microsoft's various Dynamics solutions and 25 with Infor's various applications. The remaining organizations were running other systems.
---
This Research Byte is a brief overview of our report on this subject, ERP Support Staffing Ratios. The full report is available at no charge for Computer Economics clients, or it may be purchased by non-clients directly from our website (click for pricing).
Do you also need staffing ratios for other IT job functions? Consider this collection of all of our staffing ratio reports, which bundles them all into a single report at a significant discount: IT Staffing Ratios–Special Report Bundle.