The role of the business analyst is among the most important in the IT organization, serving as a bridge between the IT organization and the users it serves, and our research indicates that the majority of organizations do provide dedicated staff for this function.
This Research Byte is a summary of our full report, Staffing Ratios for the Business Analyst Function.
In many companies, the jobs of the business analyst and customer relationship manager are combined, and in others, they have a great deal of overlap in responsibilities. Therefore, in the full report, both of these labor categories are referred to as business analysts, to simplify the terminology.
Organizationally, the business analyst has one foot in the business and one foot in IT. In some companies, business analysts report directly into the IT group with a dotted-line relationship to a business unit or user organization. In other companies, the reporting relationship is reversed. The business analyst reports directly to a business unit, with a dotted line to the IT organization.
Figure 1 shows that while most IT organizations have business analysts, some do not. Business analysts are found as a discrete job position in 69% of small organizations, 84% of midsize organizations, and 88% of large organizations. It is apparent that large firms are more likely than small firms to staff the business analyst position. Nevertheless, the fact that the majority of small firms are also doing so, shows the importance of this position even in small organizations. The minority of organizations that do not report having business analysts are those that are too small to have to have a clearly differentiated business analyst role or who have IT business system analysts who are not part of the IT staff.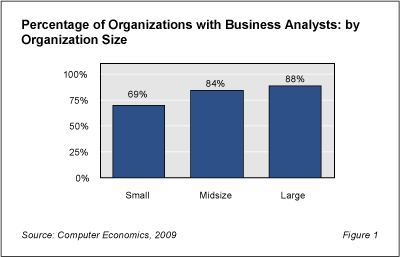 The full report analyzes the results of a nationwide survey of more than 200 CIOs and senior IT managers conducted by Computer Economics. Staffing ratios for the business analyst function are provided in terms of the total IT headcount, the application development headcount, and user headcount.
---
This Research Byte is a brief overview of our report on the subject, Staffing Ratios for the Business Analyst Function. The full report is available at no charge for Computer Economics clients, or it may be purchased by non-clients directly from our website (click for pricing).
Do you also need staffing ratios for other IT job functions? Consider this collection of all of our staffing ratio reports, which bundles them all into a single report at a significant discount: IT Staffing Ratios–Special Report Bundle.