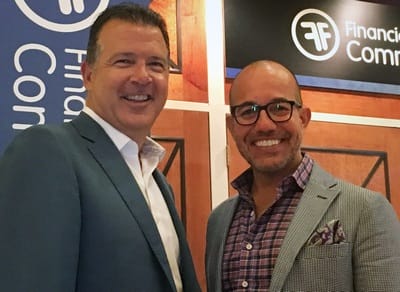 FinancialForce, a cloud ERP provider on the Salesforce platform, announced a new strategic partnership with ADP, a behemoth in the payroll and human capital management (HCM) space, to replace its own HCM offering over the long term.
The partnership, announced at the recent Community Live event in Las Vegas—attended by more than 900 executives, partners, customers, employees, and analysts—should be of great interest to FinancialForce's 1,350 customers.
FinancialForce and ADP will collaborate on product roadmap decisions and plan to introduce new capabilities that will enhance employee and resource management and absence tracking. ADP payroll will be integrated into FinancialForce Accounting in the coming months. FinancialForce will continue to invest in skills management and talent management capabilities as part of its PSA offering, while ADP will provide broader HCM capabilities, such as tax credit services and benefits administration through the new partnership.
FinancialForce's Own HCM Solution Supported Until 2022
FinancialForce has its own HCM solution, based on its 2013 acquisition of Vana Workforce. Current users of that product will not be forced to use ADP, FinancialForce Chief Marketing Officer Fred Studer said, who is pictured nearby to the right of FinancialForce's new CEO Tod Nielsen.
FinancialForce will continue to support its existing HCM product until 2022, but the company won't be further investing in that solution. Some FinancialForce HCM customers have already started migrating to the ADP solution, but most will be on the FinancialForce HCM solution for a while.
According to Studer, FinancialForce was at first planning to build a comprehensive HCM solution but recently decided instead to ink a deal with ADP, which he termed a "natural partnership." An analyst asked Studer if the news meant that FinancialForce was really abandoning HCM, which caused him to ruefully shake his head and chuckle. "We are absolutely devoted to HCM," he said. The partnership with ADP will result in a best-value solution, with critical capabilities. "We wanted to partner with the biggest and best," he added.
Nielsen (a former Salesforce executive) echoed that sentiment. "HCM continues to be critical to ERP, particularly for services-based companies. This strategic partnership will give our customers a leading, comprehensive HCM solution that streamlines HR processes—including payroll—and integrates seamlessly with our leading ERP."
The Right Move, Long Term
While there will be some inconvenience for current customers of FinancialForce's HCM solution, longer term the partnership with ADP is probably a better strategy. The attempt by FinancialForce to build out its own HCM offering was admirable. But it is probably more important to marshal development resources toward making FinancialForce the best it can be in core accounting and order processing. If the company can continue to build out integrated talent management as part of its professional services functionality, so much the better.
ADP is well suited to pick up the heavy lifting in HCM. It is not one of the dozens of niche HCM players in a crowded market. Rather, it is a major, global integrated HCM suite vendor that should be able to meet nearly any requirement of customers as FinancialForce continues its global expansion. Partnering with this type of best-of-breed provider can be an important element in a growing provider's HCM strategy. It precludes a midsize firm such as FinancialForce from having to build payroll and HCM capabilities that vary widely around the world.
So, long term, with this new strategy, customers should have a more mature solution for accounting, professional services automation, and order processing, along with a best-of-breed solution for HCM, if they choose to deploy it. (Of course, building on the Salesforce platform also gives customers the option to go with one of the most widely deployed cloud CRM systems.) Nielsen's mantra is that he wants FinancialForce to focus on doing a few things very well, and this ADP partnership furthers that philosophy.
Tradeoffs
As with any strategy, however, there are tradeoffs. Having a native HCM system made FinancialForce attractive to some customers in that they could get an HCM solution out-of-the-box, which in many cases was good enough to meet their needs. With the new strategy, FinancialForce customers now will need to bring another provider, ADP, into their application landscape. Generally, the fewer providers, the better, and the new FinancialForce strategy now adds one more.
Moreover, short term, existing customers of FinancialForce HCM will now need to plan a migration before 2022. This is good news for FinancialForce competitors. If customers have to migrate to a new HCM system, that might also open the door for them to consider migrating away from FinancialForce altogether.
The FinancialForce leadership team has, no doubt, considered all these implications of the new strategy. It will be interesting to see in the coming years how they play out.
Photo credit: FinancialForce