The need for agility continues to drive investment in Infrastructure as a Service (IaaS). And the global pandemic and subsequent supply chain disruptions have only increased this trend. Cloud infrastructure makes it easier for companies to respond to fluctuations in demand, changes in business requirements, and the need to optimize costs over time. All this has led companies to reevaluate their hybrid and multicloud deployments to achieve efficiency and lower operational costs while pursuing growth.
Figure 2 from our full report, Iaas Adoption Trends and Customer Experience, shows that adoption rates and investment rates for IaaS have been steadily increasing. In the past five years, adoption (the blue bars) has risen from 42% of all organizations in 2018 to 71% in 2022. During the same period, the percentage of organizations making new investments in IaaS has risen from 40% in 2017 to 56% in 2022.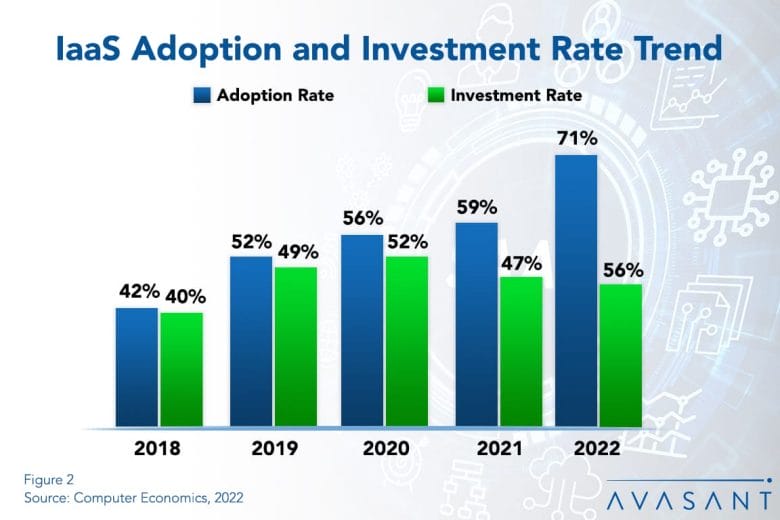 IaaS refers to the use of network-based computing resources, such as storage and processing, without managing the underlying technical infrastructure. IaaS can be offered in a public cloud or by cloud platform service providers as a private cloud. IT organizations use IaaS for various purposes, including internal production systems, systems development and testing, disaster recovery, customer-facing systems, and handling spikes in demand.
"Very few organizations rely only on public cloud infrastructure providers," said Reneece Sterling, a research analyst for Computer Economics, a service of Avasant Research based in Los Angeles. "Combining public cloud with private cloud and even on-premises systems allows companies to benefit from the best features of each."
Nevertheless, in addition to cost risks, security and privacy concerns linger. Some business and IT leaders still worry about security and privacy concerns and trusting the public cloud with confidential information. However, research has shown that IaaS providers generally have superior security to what most companies can achieve in-house.
Therefore, we anticipate continued growth in IaaS adoption and investment. It bears watching how high adoption will go in the next few years.
Based on our survey, this report quantifies the current adoption and investment trends for IaaS, as well as the benefits driving adoption. We assess adoption and investment trends by organization size and sector. We also look at the economics of IaaS by assessing the return on investment (ROI) and total cost of ownership (TCO) experience of those that have adopted IaaS and conclude with practical advice for those seeking to gain support for IaaS investments.
---
This Research Byte is based on our report on this subject, IaaS Adoption Trends and Customer Experience. The full report is available at no charge for subscribers, or it may be purchased by non-clients directly from our website (click for pricing).