Help desk outsourcing is not as common as one might think: fewer than one-quarter of IT organizations rely on outside service providers today to perform the help desk function, either in whole or in part, and only about 9% are relying on offshore service providers for help desk services.
A closer look, however, reveals help desk outsourcing may be poised for growth, despite the bad reputation that offshoring of call centers has received in recent years. This Research Byte is a summary of our full report, Help Desk Outsourcing Activity, Trends, and Cost Experience.
Anecdotal evidence from service providers suggests the industry has been affected both positively and negatively by the ongoing economic weakness. Those accounts are supported by our data. According to our annual outsourcing study, involving more than 200 IT organizations, the frequency of help desk outsourcing increased slightly amid the downturn. In 2007, about one-fifth of organizations outsourced some help desk work, as Figure 1 shows. The frequency of help desk outsourcing rose to one-quarter of companies in 2008, and it remained at essentially the same level this year. While the trend is not dramatic, it contrasts vividly with the 10 other outsourcing categories in our larger study, most of which show a flat or declining trend over the same period.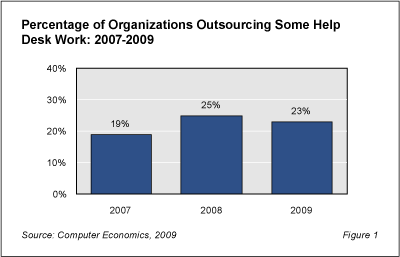 The full version of this report, drawing on data from IT Outsourcing Statistics 2009/2010 and other sources, examines current help desk outsourcing activity. We report on the three-year trend in the percentage of organizations outsourcing the help desk function (frequency) and average percentage of work outsourced (level). Next we examine outsourcing activity by organization size, reporting on frequency, level, change in amount of work outsourced (current trend), and actual cost vs. expectations (cost experience). Another important consideration is the popularity of offshore outsourcing, and we report on the frequency and trend in use of offshore service providers. Finally, we consider how outsourcing frequency varies by sector.
---
This Research Byte is a brief overview of our report on this subject, Help Desk Outsourcing Activity, Trends, and Cost Experience. The full report is available at no charge for Computer Economics clients, or it may be purchased by non-clients directly from our website (click for pricing).
Attention Help Desk Managers: this report is included in our special publication, Read more and download the first few pages of the report, free.