As organizations resume hiring, they are reducing use of outsourcing services to perform the help desk function. While outsourcing help desk operations can save money, the service experience has not been good for many organizations. Other factors such as adoption of IT service management strategies may also be prompting organizations to reassess their help desk outsourcing strategies.
As shown in Figure 2 from our study, Help Desk Outsourcing Trends and Customer Experience, approximately 29% of organizations outsource some help desk work. That percentage is down substantially from the 36% in 2013 and 38% in 2012. In short, the number of companies outsourcing help desk work declined in 2014 for the second year in a row.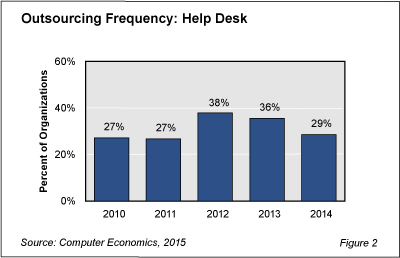 However, the percentage has returned to levels in 2010 and 2011, when about 27% of IT organizations were outsourcing this function in whole or in part. The rise and subsequent fall in the outsourcing frequency of this function indicates that the recovery cycle may be having a large influence. As IT organizations begin to hire permanent employees, the help desk has been one of the areas where work is being brought back in-house.
The decision to turn over an organization's IT help desk function to a third-party service provider has a long and varied history. It is one of the services that helped establish the contemporary IT outsourcing industry. Even so, our research shows that help desk outsourcing is not as common as one might think. There is a high level of concern about the level of service received from service providers. Many organizations, in fact, have adopted a strategy of keeping all help desk functions in-house to ensure the quality of end-user support. IT organizations also seek to leverage the help desk as a primary point of contact between users and the IT organization. The help desk can perform related functions such as asset management, training, monitoring user satisfaction, and monitoring the organization's IT systems.
While cost pressures may have prompted a rise in help desk outsourcing, the trend has reversed itself more recently. Our study finds the number of organizations that outsource help desk has declined for the second year in a row. Organizations realize a strong cost-success experience with outsourcing, but service is unsatisfactory. Another development is that as more organizations put their applications and infrastructure in the cloud, support services are liable to follow.
In the long run, the help desk is a people-intensive operation, often comprising 7% or more of the typical IT staff. It also is a process-intensive operation that benefits from investments in software and automated systems. As such, many IT organizations will find outsourcing this function a quick way to reduce costs while gaining access to the expertise and economies of scale of service providers. Other organizations will choose to invest in their internal help desk operations.
IT executives need to consider their help desk strategies in light of current trends. In the full study, we measure help desk outsourcing activity through outsourcing frequency, outsourcing amount, overall volatility, net growth, outsourcing cost experience, and outsourcing service experience. We also compare help desk outsourcing frequency and level by organization size. Finally, the report examines the sectors that are most likely to outsource the help desk function.
---
This Research Byte is a brief overview of our report on this subject, Data Center Outsourcing Trends and Customer Experience. The full report is available at no charge for Computer Economics clients, or it may be purchased by non-clients directly from our website (click for pricing).