Data centers today are running hotter than ever. Temperatures are rising as computer manufacturers cram faster, hotter processors into smaller and smaller boxes. Many organizations respond by throwing more air conditioning at the problem, which increases energy consumption. Ultimately, many companies are forced to expand their data centers or build new facilities to deal with the excess heat, and the cycle begins again because the fundamental problems were never solved.
This Research Byte is a summary of our full report, Resolving the Data Center Power and Cooling Crisis.
A study of server power consumption by Jonathan G. Koomey of the Lawrence Berkeley National Laboratory and Stanford University was published in February 2007. The study was funded by AMD and peer-reviewed by representatives from Dell, Hewlett-Packard, IBM, Intel, and Sun.
The study based its conclusions on the measured and estimated power usage of the most popular servers. As Figure 1 shows, aggregate U.S. power consumption by servers nearly doubled from 12 billion kW hours in 2000 to 23 billion in 2005. Koomey predicts this figure will double again by 2012.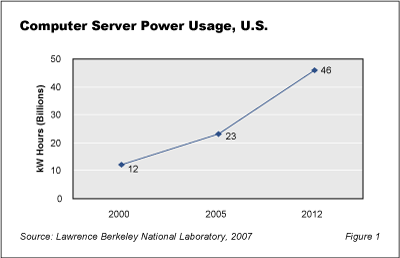 The full version of this report investigates the current crisis in data center power and cooling and provides recommendations for resolving it. It provides forecasts of computer power usage and energy costs and identifies the sources of demand for power in the data center. It analyzes how common practices of data center managers often worsen the problem. Finally, it outlines new approaches that organizations are taking to gain control over power and cooling requirements.
The accelerating growth in computer facility power and cooling is not inexorable. The first step toward a solution is to acknowledge that the problem exists. The next step is to begin applying the suggestions provided in this analysis. Coupled with more power-efficient servers and improved cooling techniques, data centers can reverse the current trend.
May 2007
---
This Research Byte is a brief overview of our report on this subject, Resolving the Data Center Power and Cooling Crisis. The full report is available at no charge for Computer Economics clients, or it may be purchased by non-clients directly from our website at https://avasant.com/report/resolving-the-data-center-power-and-cooling-crisis-2007/ (click for pricing).