Scope of the Report
The report covers leading hybrid enterprise cloud (HEC) managed service providers globally which are addressing different aspects of the value chain, technology landscape with special emphasis on hybrid cloud strategies, multi-cloud models, new roles, cloud management platforms (CMPs), M&A, partnerships, sourcing criteria and contracting terms, container technology and rollout of new offerings.
It also provides a fact-based detailed assessment of leading 24 hybrid enterprise cloud (HEC) managed services providers enabling digital transformation for Global 2000 enterprises. The profiles for each of these 24 providers capture their practice (or business unit) overview, key IP and assets, key clients, partnerships, case studies, and analyst insights on their practice maturity, investments & innovations, and partner ecosystem, thus providing a 360-degree view of service providers.
Why read this RadarView™ ?
Hybrid enterprise cloud is the foundational pillar for true enterprise digital transformation. Today's boardroom conversations center around driving transformational business value by leveraging technology prerequisites such as artificial intelligence, the internet of things, and blockchain. All of these technologies can be leveraged and built upon hybrid cloud platforms that provide the necessary speed, agility, and security to generate game-changing business value. Avasant's ongoing interactions with enterprise digital leaders indicate that while cloud adoption is growing, their next big challenge is the optimization of cloud management and orchestration in their hybrid environments.
The Hybrid Enterprise Cloud Managed Services 2018 RadarView report is aimed at providing information about the key trends and best practices to enterprises and build a granular understanding of the Hybrid enterprise cloud ecosystem. This 84 pages report also highlights the key trends in the market and Avasant's view on the road ahead for enterprises leveraging hybrid enterprise cloud over the next 12 to 18 months.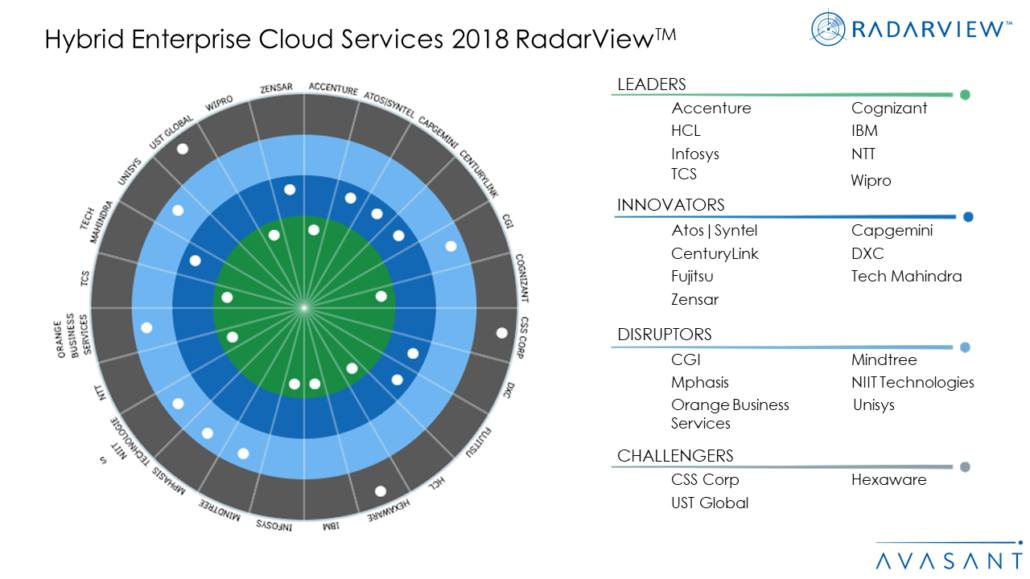 Featured Providers
Accenture, Atos/Syntel, Capgemini, CenturyLink, CGI, Cognizant, CssCorp, Dxc Technology, Fujitsu, HCL, Hexaware, IBM, Infosys, Mindtree, Mphasis, NIIT, NTT, Orange Business Services, TCS, TechMahindra, Unisys, USTglobal, Wipro, Zensar.
Methodology
The industry insights and recommendations are based on Avasant's ongoing interactions with enterprise CXOs and other key executives, targetted discussions with service providers' practice leads, subject matter experts, and fellows within Avasant, learnings from consulting engagements, and round the year tracking of this space by Avasant analysts.
Evaluation of service providers is based on primary inputs from providers, focussed briefings, their public disclosures, Avasant's ongoing market interactions, and validations from enterprises (clients). The assessment is carried through a rigorous methodology across key dimensions of Practice Maturity, Partner Ecosystem, and Investments and Innovation.