Scope of the Report
The report covers top-tier managed service providers globally which are supporting the enterprise adoption of intelligent adoption, addressing different aspects of the value chain, current adoption state, technology landscape with special emphasis on industry-specific adoption, business case drivers, emerging new use-cases across the industry, enterprise and IT process, RPA tool provider ecosystem, pricing models, downloadable bot stores, delivery models for CoE, key IP and assets, and partnership landscape.
It also provides a fact-based detailed assessment of leading 24 multi-offering services providers enabling digital transformation for Global 2000 enterprises. The profiles for each of these 24 providers capture their practice (or business unit) overview, key IP and assets, key clients, partnerships, case studies, and analyst insights on their practice maturity, investments & innovations, and industry development, thus providing a 360-degree view of service providers.
Why read this RadarView™ ?
Intelligent automation (IA) technology adoption is growing across industries and processes. Most enterprises are relatively comfortable with incorporating automation in the form of robotic process automation, but there is still little enterprise-wide adoption of automation that includes artificial intelligence (AI). Avasant's ongoing interactions with enterprise digital leaders indicate that even though there is great interest in AI-enabled automation, most enterprises are still incorporating first level AI in their processes. The Intelligent Automation Services RadarView 2018 Report addresses the dual need of the enterprises to understand both the RPA and the AI-enabled automation space and to identify implementation services providers that span both. This report focuses on assessing the implementation of services providers, and there will be -a separate RadarView report to analyze the IA technology providers.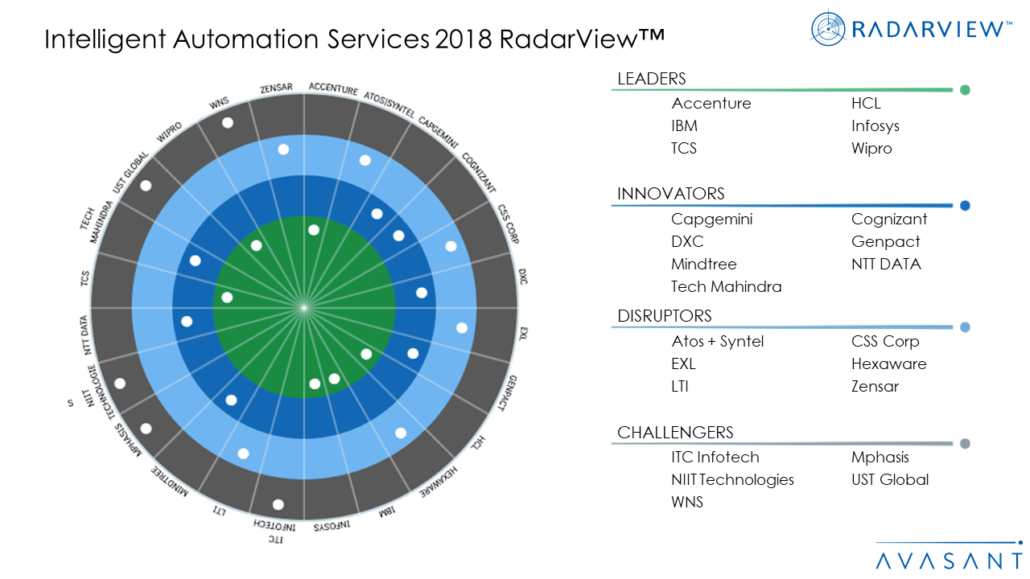 Featured Providers
Accenture, Atos/Syntel, Capgemini, Cognizant, CSSCorp, DXC.technology, EXL, Genpact, HCL, Hexaware, IBM, Infosys, ITC Infotech, LTI, Mindtree, Mphasis, NIIT, NTT Data, TCS, TechMahindra, USTGlobal, Wipro, WNS and Zensar.
Methodology
The industry insights and recommendations are based on Avasant's ongoing interactions with enterprise CXOs and other key executives, targetted discussions with service providers' practice leads, subject matter experts, and fellows within Avasant, learnings from consulting engagements, and round the year tracking of this space by Avasant analysts.
Evaluation of service providers is based on primary inputs from providers, focussed briefings, their public disclosures, Avasant's ongoing market interactions, and validations from enterprises (clients). The assessment is carried through a rigorous methodology across key dimensions of Practice Maturity, Partner Ecosystem, and Industry Development.
---
Refer to our latest report Intelligent Automation Services 2020-2021 Radarview™
---