Enterprises face challenges in extracting, organizing, and processing high volumes of unstructured data. However, the advancements in AI have significantly expanded the scope of automation by providing new capabilities such as deep learning and generative AI to automate complex, data-driven tasks with high accuracy. Cognitive bots can now process unstructured data, recognize patterns, and make more informed decisions regarding workflows previously considered too complex for automation. By leveraging automation technologies such as RPA, ML, process mining, and AI, organizations can unlock new levels of productivity, innovation, and growth for increasing customer satisfaction and revenue, and gaining a competitive advantage.
These emerging trends are covered in Avasant's Intelligent Automation Services 2022–2023 RadarView™. The report is a comprehensive study of intelligent automation (IA) services. It includes the current landscape and provides enterprise recommendations. It also takes a close look at the leaders, innovators, disruptors, and challengers in this market.
Avasant evaluated 45 providers across three dimensions of practice maturity, partner ecosystem, and investments and innovation. Of the 45 providers, we recognized 24 that brought the most value to the market during the past 12 months.
The report recognizes service providers in four categories:
Leaders: Accenture, Capgemini, Cognizant, HCLTech, IBM, Infosys, TCS, and Wipro

Innovators: EXL, Genpact, Sutherland, and Tech Mahindra

Disruptors: Coforge, ITC Infotech, LTIMindtree, Movate, Mphasis, and

,

Zensar

Challengers: Atos, Birlasoft, DXC, Hexaware, NTT DATA, and UST
Figure 1 from the full report illustrates these categories: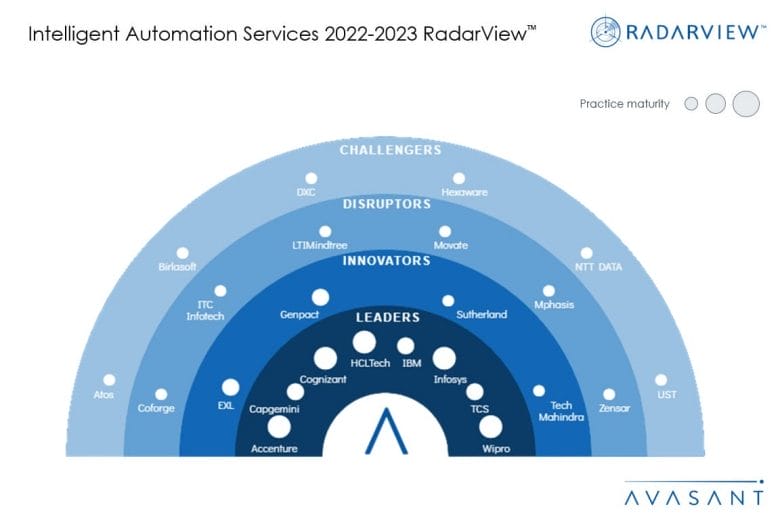 "With AI progressing at a remarkable pace, enterprises must seize the emerging opportunities in hyperautomation to enhance operational efficiency," said Anupam Govil, Avasant partner and digital practice lead. "The synergy of AI and RPA empowers businesses to automate increasingly complex processes that were once challenging to address with conventional RPA."
The full report provides a number of findings and recommendations, including the following:
The number of IA projects witnessed the highest surge in 2020, with 90% YOY growth. However, in the following years, the number of standalone automation projects stood at 16% and 21%, respectively, because enterprises began leveraging automation in broader digital transformation contracts

.

Customer-facing industries such as healthcare and life sciences, retail and CPG, and BFSI have identified new job roles for automation across fraud and compliance, customer service, inventory management, sales and marketing, and patient management in the wake of the "Great Resignation."

Many generative AI models, such as BardAI, ChatGPT, and ChatLLaMA, have emerged in the past six months for enterprise use. These large language models require less training time and can be integrated with automation tools to facilitate on-demand automation.
"Service providers are vital in empowering enterprises to navigate and thrive in an increasingly complex and intricate business landscape," said Chandrika Dutt, research leader at Avasant. "By providing seamless integration with technologies such as edge computing and generative AI, they can unlock the full potential of automation."
The full report also features detailed profiles of 24 service providers, along with their solutions, offerings, and experience in assisting enterprises in their IA journeys.
---
This Research Byte is a brief overview of the Intelligent Automation Services 2022–2023 RadarView™ (click for pricing).