The IDP industry is moving towards more complex types of data extraction across multiple industries. Enterprises are focusing on increased levels of straight-through processing, which has led to platform providers investing in advanced technologies such as artificial intelligence, machine learning, and natural language processing to reduce exceptions while extracting complicated objects such as logos, watermarks, and tables.
These trends, and others, are covered in our Intelligent Document Processing Platforms 2022 RadarView™. The report is a comprehensive study of intelligent document processing platform providers, including the top trends, analysis, and a close look at the market's leaders, innovators, disruptors, and challengers.
We evaluated 32 platform providers across three dimensions: product maturity, enterprise adaptability, and future readiness. Of those 32 providers, we recognized 16 that have brought the most value to the market during the past 12 months.
The report recognizes platform providers in four categories:
Leaders: Automation Anywhere, ABBYY, and HCL
Innovators: AntWorks, Hyland, and Kofax
Disruptors: EdgeVerve, EXL, LTI, Parascript, Sutherland, and UiPath
Challengers: Datamatics, Hyperscience, OpenText, and UST
Figure 1 from the full report illustrates these categories: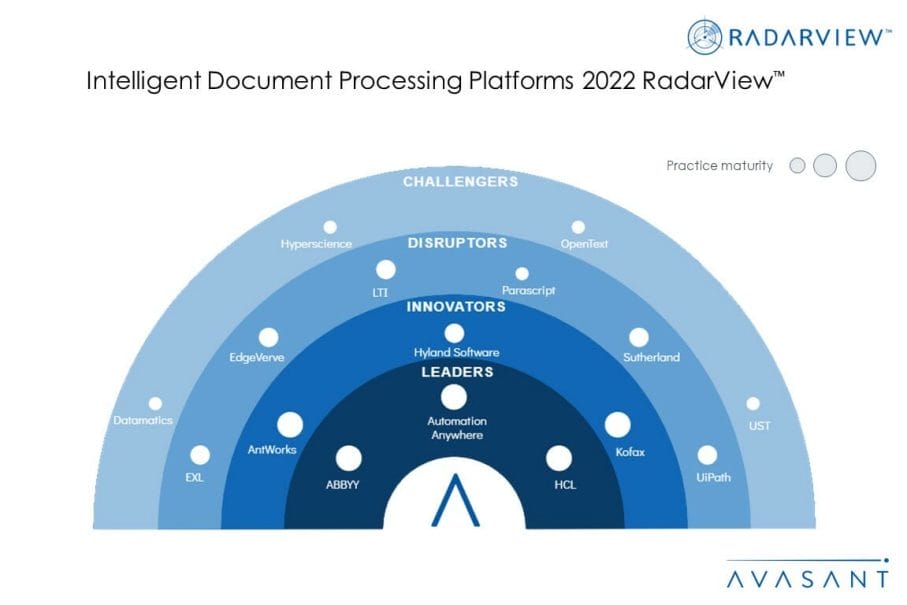 An intelligent digital supply chain is imperative for enterprises transitioning to Industry 4.0., said Anupam Govil, Avasant partner and digital practice lead. "Today's IDP platforms have gone beyond digitizing paper documents to making sense of hand-written invoices and payable slips, signatures, and barcodes to enable straight-through processing."
Some of the findings from the full report include the following:
Superior data governance and scalability are driving IDP cloud adoption
While the IDP industry saw a nearly 15% annual growth in client engagements in 2022, cloud-based IDP implementations saw a jump of nearly 40%, driven by enterprise demand for enhanced data management (multichannel intake and bulk data processing), data security (role-based access and advanced encryption), and scalability (multitenant architecture and auto-scaling).
Europe is catching up with North America's dominance in IDP adoption because of the high demand for multilingual data processing. Data extraction in French and German is gaining traction.
Structured data extraction for RPA implementations continues to be an enterprise priority
Structured data processing continues to be the single largest use case, comprising about 45% of total IDP workflows. This is because most enterprises are still focused on increasing the accuracy and speed of structured and semistructured document processing for their RPA implementations. Only a few are using artificial intelligence (AI) to gain insights from business documents with free-flowing text.
Supervised learning is gaining the most traction in IDP model training for template-based data extraction as it drives autonomous execution with higher accuracy rates.
Cognitive tech usage across the IDP value chain is facilitating straight-through processing
The use of cognitive technologies such as AI, ML, computer vision, NLP, and deep learning across the IDP value chain (document splitting, data classification, extraction, validation, enrichment, and insights generation) is becoming critical for straight-through processing of complex data types and achieving higher data processing accuracy.
Providers are also building capabilities to overcome the challenges of lack of quality training data, integration with the legacy system, low-quality image scans, and high document structure variation.
"BFSI and healthcare have been early adopters of IDP platforms," said Abhisekh Satapathy, senior analyst at Avasant. "However, in the past 18 months, enterprise adoption increased outside these industries, including manufacturing and telecom, primarily to optimize business operations and ensure compliance."
The full report also features detailed RadarView profiles of the 16 platform providers, along with their solutions, offerings, and experience assisting enterprises in their document processing journeys.
---
This Research Byte is a brief overview of the Intelligent Document Processing Platforms 2022 RadarView™ (click for pricing).
---