Microsoft's release of Office 2007, along with the Vista operating system, introduces many new capabilities. However, there are a number of factors for IT organizations to consider when deciding on the suitability of Office 2007 and the optimum time to upgrade. Some companies are becoming early adopters of this new version of Microsoft's office suite. Others, such as the U.S. Department of Transportation, have placed a moratorium on upgrades because of cost, hardware compatibility, and training considerations.
This Research Byte is a summary of our full report, Upgrade Considerations for Microsoft Office 2007.
While the difficulties of upgrading are readily apparent, the advantages inherent in Office 2007 may not be so obvious. Topping the list are the extensive security improvements Microsoft has implemented. Also, file sizes are more compact, thanks to the new XML file format. The full implications of migrating to a file format incompatible with earlier versions of Office are investigated in the full report.
In addition, Office 2007 users can leverage enhanced collaborative features to improve workflow and decrease labor. Finally, the fixed user interface (with limited exceptions) can simplify help desk tasks, because all clients will have the same desktop. Each of these advantages carries ramifications in terms of organization culture, training, and data sharing.
Never has Office been offered in so many editions, with versions comprising just Word, Excel, and Outlook to the full range of applications and features. Figure 1 provides a complete list of the editions and the content of each. Note that some editions are only available from OEM, retail, or volume licensed sources. The retail Office Professional edition is limited to installation on a single desktop and a single laptop combination.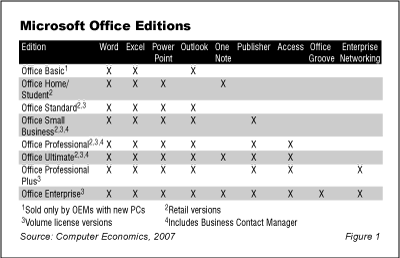 The full version of this report analyzes the key changes introduced in Microsoft Office 2007, its best ROI opportunities, and factors to consider in making the decision to upgrade.
Deciding whether this is the time to migrate to Office 2007 depends on how Office applications are deployed within a particular organization. Companies that only use Office for simple Word and Excel documents, without elaborate formatting, are not good candidates for an immediate upgrade. If users do not perform detailed analyses or need to construct complex spreadsheets, there is little reason to endure the inconvenience and cost of an upgrade.
On the other hand, if users need to create polished brochures and client mailings, want PowerPoint graphics with more "oomph," or do extensive Excel chart and spreadsheet analyses, Office 2007 may be worthwhile.
Despite the fact that many of the advanced features of Office 2007 will not likely be used by the majority of users, organizations committed to the MS office suite of products will undoubtedly make the move at some point. However, the migration should be carefully planned. It is important to understand the impact that deploying Office 2007 will have on productivity.
While Microsoft states that users will become comfortable with Office 2007 in a couple of days, we believe that it will take quite a bit more time for users to return to full productivity. Also, the deployment of Office 2007 will increase demands on the organization's help desk, as frustrated users will likely increase support calls. Although the increase call volume should taper off after the first few months, organizations planning an Office 2007 upgrade should take into account the short-term drop in user productivity and increase in associated support costs.
April 2007
---
This Research Byte is a brief overview of our report on this subject, Upgrade Considerations for Microsoft Office 2007. The full report is available at no charge for Computer Economics clients, or it may be purchased by non-clients directly from our website at https://avasant.com/report/upgrade-considerations-for-microsoft-office-2007/(click for pricing).