IT organizations in North America plan to increase IT operational budgets by 2.0% at the median in 2016 as they continue to shift operations into the cloud, according to the 2016 outlook survey by Computer Economics.
The IT operational budget growth rate, while remaining positive, indicates the pace of recovery is slowing considerably from the 2.5% to 3.0% rate over previous three years, as shown in Figure 4 from the study, IT Spending and Staffing Outlook for 2016: Divergence Ahead.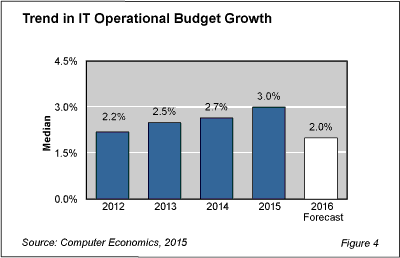 The slowdown, however, is primarily evident among large organizations, which are planning for no growth in IT operational spending. Smaller organizations and services businesses are maintaining a positive outlook about the coming year.
"There is a very stark divide this year between organizations that are very bullish and IT executives who are feeling constrained in their ability to meet the needs of their organizations," said John Longwell, vice president of research for the Irvine, Calif.-based research firm. "The slowdown is particularly acute among larger organizations in the manufacturing sector."