The use of contingency workers by IT organizations dropped for the third year in a row, pulling back from a substantial spike during the early stages of the recovery. This level represents a low for the last decade, and it signals some changes to the contingency worker market.
Contingency workers, also know as contract or temporary workers, make up just 3.0% of the IT staff of the typical organization today, as shown in Figure 4 from our study, Current Use of IT Contingency Workers. It appears that during the early stages of the recovery, organizations made ample use of contingency workers to compensate for growth in relatively uncertain conditions.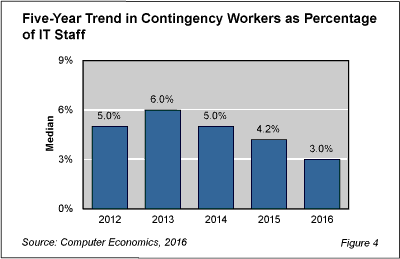 The reversal shows that the use of contingency workers in the IT world is cyclical. It coincides with a greater willingness to hire full-time workers in the maturing recovery. There are likely other forces at work, especially the maturity of cloud products. Infrastructure as a service particularly makes it easier for companies to handle growth periods without bringing on new staff.
Contingency workers provide flexibility, variable cost, and hard-to-find skills for special projects. They can reduce the need for overstaffing by working on an as-needed basis. Some organizations rely on their temporary workforces as a way to try out workers before making a full-time commitment.
On the downside, temporary workers will have higher turnover, be less committed to the organization, and require more training in the organization's processes and procedures. The use of contingency workers also may create continuity issues, and these workers lack the institutional knowledge that organizations require to function. Unless properly screened, they also can increase security risks.
As such, managing the contingency workforce of contractors and temporary workers is a balancing act. Staffing agencies and vendor management systems for placing temporary workers have made the job easier, but IT managers still need to determine the proper balance between regular full-time employees and contingency workers. The full study examines the use of contingency workers by organization size and sector so that IT organizations can compare their use of contingency workers with their peers.
---
This Research Byte is a brief overview of our report on this subject, Current Use of IT Contingency Workers. The full report is available at no charge for Computer Economics clients, or it may be purchased by non-clients directly from our website (click for pricing).