Over the past five years, the ratio of IT managers to IT staff has remained relatively steady, fluctuating within a 1.4 percentage point range. While larger organizations will have slightly more managers per IT staff member than smaller organizations, the number of managers an organization needs to run an efficient IT operation overall appears directly related to the size of the IT staff.
The average ratio of IT management positions to total IT staff for our sample was 10.5% at the median in 2013, compared with 10.2% in 2009, as shown in Figure 1 from our study, IT Management Staffing Ratios. The small variation from year to year may not be significant. The ratio of managers to people being managed remains at about 10-to-1 for the composite sample.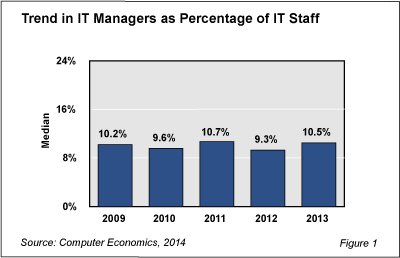 Having an appropriate number of managers is essential for a smooth-running IT department. A top-heavy organization can become bureaucratic, while an organization with too few managers can become chaotic and unable to focus on long-term objectives. Insufficient management resources also can push planning and administrative tasks onto ill-equipped technical personnel, causing productivity to suffer.
The full study examines the question of how many managers a well-run IT organization requires and presents staffing metrics for IT managers as well as two administrative support functions: IT finance/vendor management and clerical support. The study defines these categories as follows:

IT Managers—IT managers are employees whose primary job function is to manage people. We group all IT management levels, including executives, into a single job function. First-level managers such as supervisors and team leaders who are primarily "doers" are not counted as managers.

IT Finance, Vendor Management, and Procurement—This category comprises employees whose primary job function within the IT organization is related to finance, accounting, budgeting, procurement, vendor contracts, or vendor management. For brevity's sake, we refer to this category collectively as the IT finance function, although it also includes vendor management and procurement.

Clerical Staff—This category includes nonmanagement and nontechnical staff positions such as administrative assistants. These staff members support management and administrative functions.
To benchmark IT management we use two metrics: IT managers as a percentage of the IT staff and users per IT manager. For benchmarking purposes, we also report a range of values from the 25th percentile to the 75th percentile for small, midsize, and large organizations. We also report metrics for IT finance and clerical staff, and examine the influence of sector on the staffing of the IT management function.
---
This Research Byte is a brief overview of our report on this subject, IT Management Staffing Ratios. The full report is available at no charge for Computer Economics clients, or it may be purchased by non-clients directly from our website (click for pricing).
Do you also need staffing ratios for other IT job functions? Consider this collection of all of our staffing ratio reports, which bundles them all into a single report at a significant discount: IT Staffing Ratios—Special Report Bundle.