While a resurgence of outsourcing and migration toward the cloud have been evident over the last few years, the ongoing evolution of IT organizations has not altered the basic ratio of IT managers to IT staff. Over the past five years, the ratio of IT managers to IT staff has remained remarkably steady, ranging within 1 percentage point of its high and low values.
The average ratio of IT management positions to total IT staff for our sample was 11.8% in 2012, compared with 11.2% in 2008, as shown in Figure 1 from our study, IT Management and Staffing Ratios. The sharp rise in 2009 could reflect the heightened level of IT staff layoffs, which corrected itself the following year. The gradual rise since then may not be significant.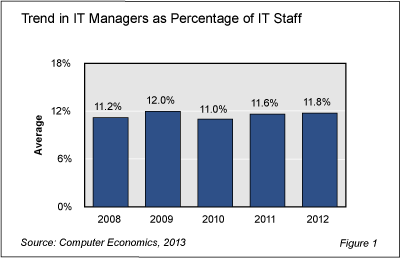 Over the long term, we anticipate a gradual rise in the IT management staffing ratio as outsourcing and cloud computing place increased emphasis on vendor management and other management functions. The current data, however, suggests any change will be gradual, and the number of IT managers an organization needs will remain more closely linked to the number of employees that require managing than the number of users being served.
Having an appropriate number of managers is essential for a smooth-running IT department. A top-heavy organization can become bureaucratic, while an organization with too few managers can become chaotic and unable to focus on long-term objectives. Insufficient management resources also can push planning and administrative tasks onto technical personnel who are ill-equipped for them, causing productivity to suffer.
The full study examines the question of how many managers a well-run IT organization requires and presents staffing metrics for IT managers as well as two administrative support functions: IT finance and vendor management, and clerical support. To benchmark IT management, we use two metrics: IT managers as a percentage of the IT staff and users per IT manager. We provide metrics for small, midsize, and large organizations. We also report metrics for IT finance and clerical staff.

---
This Research Byte is a brief overview of our report on this subject, IT Management and Administration Staffing Ratios. The full report is available at no charge for Computer Economics clients, or it may be purchased by non-clients directly from our website (click for pricing).
Do you also need staffing ratios for other IT job functions? Consider this collection of all of our staffing ratio reports, which bundles them all into a single report at a significant discount: IT Staffing Ratios–Special Report Bundle.