Last year, IT organizations significantly increased the percentage of their budgets allocated for outsourcing. But this year, not only did they pull back to previous levels; they dropped to the lowest level in five years, according to the new IT Outsourcing Statistics 2018/2019 study from Computer Economics.
This decline has two primary causes. First, favorable economic conditions are allowing IT leaders to invest in selectively bringing outsourced services back in-house. Moreover, with increased use of the cloud, there is simply less need to outsource support of internal IT infrastructure.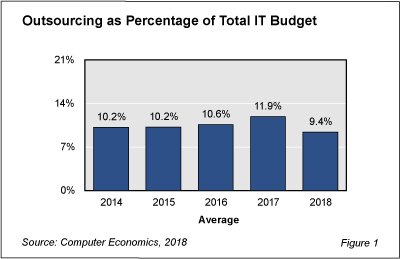 As shown in Figure 1 from the full study, the percentage of the total IT budget being spent on outsourcing declined from 11.9% in 2017 to 9.4% in 2018. This represents a major decrease even from previously established norms as organizations have hovered between 10.2% and 10.6% before last year's temporary increase.

"Company size is actually the biggest factor when it comes to the outsourcing decision," said David Wagner, vice president of research for Computer Economics, based in Irvine, Calif. "Large companies are actually increasing their outsourcing this year, while small and midsize companies are cutting back. Our research shows that smaller companies are making better use of the cloud and have fewer legacy systems. By shedding some of their infrastructure burden, companies don't need to reach out to as many service providers for specialized help. Right now, in regards to both the cloud and outsourcing, large companies and smaller companies are on different journeys."
Here are other key findings from our IT Outsourcing Statistics study this year:
Data center operations and IT security have dropped the most in terms of the percentage of companies outsourcing these functions. In 2017, 41% of companies outsourced at least some of their data center operations, compared with 35% in 2018. In 2017, 43% of organizations outsourced at least some of their IT security, compared with 37% this year. The fastest-growing function for outsourcing is application development. Fifty-three percent of organizations outsourced at least some of this function in 2017. About 56% are doing so in 2018—a small increase.

Application development also is the most frequently outsourced function in the study. As stated above, 56% of organizations outsource some or all of this function. Application development continues to take larger parts of the IT budget, and many IT organizations are looking to get more out of their internal staff through selective use of outside development firms.

IT security outsourcing is increasing at the fastest rate of all outsourced functions in terms of the percentage of work outsourced, with 48% of respondents reporting that they will increase the amount of security work that they outsource. Even though the percentage of companies outsourcing IT security declined this year, those that are still outsourcing IT security are sending a greater percentage of the security work to outside service providers. With the constant coverage of high-profile security and privacy breaches and rising variety of threats, it is no surprise that IT organizations are using security service providers to bolster their defenses.

Organizations that outsource favor help desk support and web operations as functions where they are moving the largest percentage of work to service providers. Much of this work involves commodity skills that many organizations find easy to send to service providers.

Help desk support and disaster recovery are the top IT functions for reducing costs through outsourcing. The economies of scale that service providers offer make these areas good opportunities for cost savings.

The functions with the greatest potential for improving service through outsourcing are IT security and database administration. IT security is an area where the motivation to outsource has less to do with saving money and more to do with having the job done better than it can be done in-house.

The outsourcing of database administration delivers the best value when looking at both cost and service delivery. Database administration and disaster recovery are the only functions that have a high cost-success and service-success rating. For other areas, there is generally a trade-off between saving money and improving service levels.
In the full study, we profile outsourcing activity for 10 IT functions: application development, application maintenance, data center operations, database administration, desktop support, disaster recovery services, help desk services, IT security, network operations, and web operations.
For each IT function, we measure the frequency and level of outsourcing. We also look at the current plans of IT organizations to increase or decrease the amount of work they outsource. Finally, we examine the customer experience to assess whether organizations are successfully lower costs or improving service through outsourcing.
---
This Research Byte is a brief overview of our report on this subject, IT Outsourcing Statistics 2018/2019. The full report is available at no charge for Computer Economics clients, or it may be purchased by non-clients directly from our website (click for pricing).