Outsourcing is bouncing back. After a temporary drop last year, the average percentage of the total IT budget that organizations are spending on outsourcing is at a five-year high, according to the new IT Outsourcing Statistics 2019/2020 study from Computer Economics. This Research Byte takes a look at the factors behind the jump in IT outsourcing this year.
The news that outsourcing has increased is somewhat paradoxical. Outsourcing generally goes down in good economic conditions and up in poor ones. However, the economy has shown steady growth throughout our survey period. And our data shows that companies are increasing IT operational budgets at the highest rate they have in recent years. The economy is likely not a primary reason for the increase in outsourcing.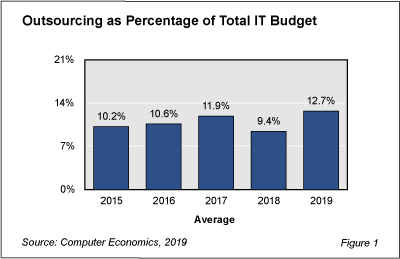 As shown in Figure 1 from the full study, the percentage of the total IT budget being spent on outsourcing increased from 9.4% in 2018 to 12.7% in 2019. Not only is this a healthy increase, but it continues a five-year trend toward increased outsourcing (with last year being an outlier).

One potential reason for this jump in outsourcing is that companies are simply more comfortable with handing over more of their work to service providers. The cloud transformation has been well under way for the past few years. More companies are adopting software as a service (SaaS) and increasing their use of the public cloud. While not all of this fits under our definition of outsourcing, these cloud services are likely making companies more comfortable with putting their fate, not to mention their data, in a provider's hands. At its heart, the outsourcing decision is a risk. Will the third party provide the necessary service levels and security? The more that companies put their data in the hands of outside providers, the more they are willing to accept the risk, and the more skilled they are in identifying vendors that can perform as needed.
Another issue might still be the economy. While the actual economic data has been strong, there have been fears of a looming recession for some time. Some economic indicators point toward a recession, and some forecasts have been predicting it since the fourth quarter of 2018. It is possible some companies are being proactive after the deep recession of 2008.
"Small companies are really driving this increase," said David Wagner, vice president of research for Computer Economics, based in Irvine, Calif. "Midsize and large companies saw smaller increases in average outsourcing. Small companies tend to be the 'canary in the coal mine' for the economy. And they also have adopted the cloud at a faster pace than their larger cousins. So if there is any increase in outsourcing because of the economy or because of comfort with putting critical workloads in the hands of providers, small companies are likely to show it first."
Here are other key findings from our IT Outsourcing Statistics study this year:
Network operations outsourcing has increased the most in terms of frequency, which is the percentage of companies outsourcing this function. About 34% of companies now outsource at least some of their network operations, compared with 30% last year. This falls in line with our general prediction that reducing the network infrastructure burden and concentrating on serving the business is the goal for most IT organizations.

Application management has dropped the most in terms of the percentage of companies outsourcing this function. In 2018, 36% of companies outsourced at least some of their application management, compared with 33% in 2019. Application management is being impacted by SaaS, as some of the application management burden is shifted to SaaS vendors and away from potential outsourcing providers.

Application development is the most frequently outsourced function in the study. Around 56% of organizations outsource some or all of this function. Application development continues to take larger parts of the IT budget, and many IT organizations are looking to get more out of their internal staff through selective use of outside development firms.

IT security outsourcing is showing the largest growth rate of all outsourced functions in terms of the percentage of work outsourced, with a net 48% of respondents reporting that they will increase the amount of security work that they outsource. Even though the percentage of companies outsourcing IT security declined this year, those that are still outsourcing it are sending a greater percentage of the security work to service providers. With the constant coverage of high-profile security and privacy breaches and rising variety of threats, it is no surprise that IT organizations are using security service providers to bolster their defenses.

Help-desk support and disaster recovery are the top IT functions for reducing costs through outsourcing. The economies of scale that service providers offer make these areas good opportunities for cost savings.

The functions with the greatest potential for improving service through outsourcing are IT security and web operations. IT security is an area where the motivation to outsource has less to do with saving money and more to do with having the job done better than it can be done in-house.

The outsourcing of disaster recovery delivers the best value when looking at both cost and service delivery. Disaster recovery and application management are the only functions that have a high cost-success and service-success rating. For other areas, there is generally a trade-off between saving money and improving service levels.
In the full study, we profile outsourcing activity for 11 IT functions: application development, application management, data center operations, database administration, desktop support, disaster recovery services, help desk services, IT security, network operations, system implementation/integration, and web operations.
For each IT function, we measure the frequency and level of outsourcing. We also look at the current plans of IT organizations to increase or decrease the amount of work they outsource. Finally, we examine the customer experience to assess whether organizations are successfully lowering costs or improving service through outsourcing.
---
This Research Byte is a brief overview of our report on this subject, IT Outsourcing Statistics 2019/2020. The full report is available at no charge for Computer Economics clients, or it may be purchased by non-clients directly from our website (click for pricing).